New Orleans Summer Festivals are the Perfect Time to Party with Friends
Round up your friends and come experience the exciting summer festivals happening in New Orleans! There is no better way to party with friends this summer than by enjoying delicious local food, music, and drink at one of the many summer festivals and events taking place in New Orleans. People come from all over to experience New Orleans's eccentric culture, flavorful food, and unique customs and traditions. Get your first-hand New Orleans experience at one of the many interesting festivals happening this summer! New Orleans offers tons of fun festivals and events for people of all ages and interests, appealing to both locals and tourists alike. If you are visiting the Big Easy this summer, be sure to book your stay at The French Market Inn, a charming hotel in the New Orleans French Quarter located close to all of the festivals and excitement!
Bringing Friends Together at Summer Festivals in New Orleans
New Orleans is a city famous for its lively entertainment, exceptional music, and of course, delectable food and drink! A city renowned for its world-famous partying, New Orleans knows how to have a good time, and wants you to grab some friends and join in! If you and your friends are interested in cocktails and drink-mixing, you may want to check out Tales of the Cocktail, a five-day festival packed with tastings, seminars, and special events that are all centered around exchanging ideas and techniques in the cocktail world! This lively festival is perfect for passionate mixologists, professionals and enthusiasts alike.
You and your friends may also have to do some shopping and buy an eccentric or silly red dress for this next New Orleans summer festival! The Red Dress Run will be taking place August 13th in the French Quarter, and is an event that also doubles as a fundraiser, donating to over 100 local charities! This unique event involves both women and men wearing red dresses and partaking in a pub-crawl like run, covering the city streets with varying shades of crimson. There is unlimited beer, food, and live music by the Topcats and The Mixed Nuts, too! Grab your adventurous friends and experience a thrill like no other at the Running of the Bulls, where the New Orleans Big Easy Rollergirls chase after runners with wiffle-ball bats on roller skates!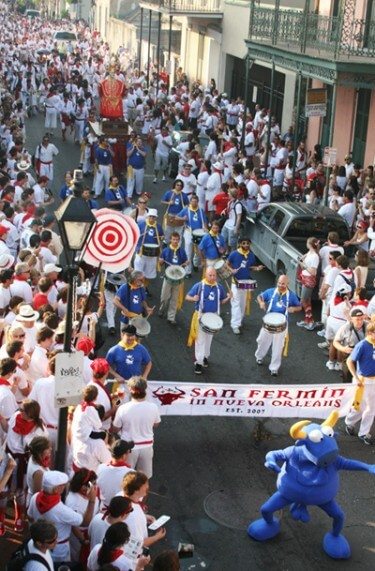 Whitney White Linen Night is an free event that is open to the public, and takes place on August 6th over four blocks on Julia street in New Orleans. Guests are invited to wear as much white as possible, hence the name! Three stages are set up for live entertainment, and over 20 galleries and museums will be present, along with food and cocktails from over 20 local restaurants, allowing you and your friends to party the night away while enjoying local flavors!
Essence Festival will take over the Superdome June 30th-July 3rd, and will feature many famous musical artists and special guests. In addition to these great Summer events and festivals, New Orleans will be hosting Southern Decadence, Satchmo SummerFest, Bastille Day Fete, COOLinary New Orleans, and many others this summer!
Finding the Perfect Place to Stay in New Orleans
If you and your friends are planning a trip to the city this summer, come experience all of the great summer festivals and events New Orleans has to offer! Book your stay at a hotel that is centrally located near all of the festivals and excitement, the French Market Inn in the New Orleans French Quarter!