French Market Inn's Guide to Food in the French Quarter
If you're looking for food in The French Quarter, we've got you covered. Check out our favorite dishes that define New Orleans cuisine, desserts nearby, must-try brunch dishes, late night eats, and tips on culinary and cocktail tours in the French Quarter, and edible souvenirs that you can bring home with you.
The French Quarter knows no meaning of last call, being open for business 24/7, and that includes quite a few restaurants. Here are a few of our favorite spots where you can eat after 9 p.m. in the French Quarter.
10 Iconic New Orleans Brunch Dishes You Must Try in the French Quarter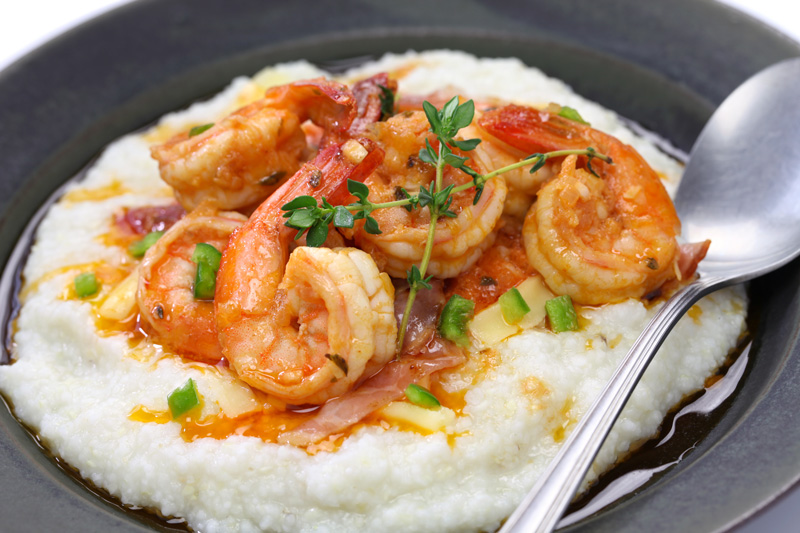 Brunch is usually meant to be a lingering, boozy affair, but New Orleans takes it to a new level with a slew of jazz brunches, classic cocktails and decadent Creole fare. Many local restaurants offer special weekend brunch menus, often accompanied by live music, and seat as late at 3 p.m. Bottomless mimosas and build-your-own-Bloody-Mary bars are a thing, and your eggs and waffles will arrive at the table covered with decadent sauces, Gulf seafood, and other deliciousness.
From the iconic Creole grand dames to contemporary wonders helmed by the award-winning chefs, you can easily find tasty renditions of the New Orleans and southern staples on many local brunch menus. Here are our suggestions for the French Quarter and nearby.
Biscuits and Gravy
We don't need to explain this Southern classic, which you can spot on many menus of the French Quarter restaurants, from downhome diners to the white-tablecloth veterans alike.
Where to try it: You can pair your biscuit and gravy with pork shoulder Benedict at the charming Sylvain, or head to the Marigny to sample a delicious version topped with andouille sausage at Cake Cafe & Bakery. It's worth the trip for all the fresh-baked goods, glorious omelets, and $1 cupcakes.
This Southern staple is also on the menu of the CBD-based Willa Jean (near the French Quarter, and a must if you're a biscuit enthusiast). Helmed by chef Kelly Fields, Willa Jean also doubles as a bakery, and the biscuit is served six different ways (look for "The Biscuit Situation" section in the menu).
Breakfast Po-Boy
The egg-and-cheese version of this local staple, a breakfast po-boy also comes with smoked sausage, ham, and veggies. It's served on French bread, of course.
Where to try it: Cafe Conti's version features cheddar as the choice of cheese and a variety of sides like grits or fresh fruit. Vacherie's weekend brunch menu also has one, which comes with breakfast potatoes. Vacherie has other Louisiana standbys like eggs served with fried green tomatoes and crab cake Benedict, accompanied by the brunch cocktail classics like brandy milk punch and bellinis.
Chicken and Waffles
Before avocado toast and bottomless mimosas began showing up on the brunch menus everywhere, there was chicken and waffles. Simple, satisfying, and as Southern as they come, this dish can be found all over the French Quarter.
Where to try it: The standouts include Saint Cecilia at the French Market, which serves its version all day and with fruit, and The Original Pierre Maspero's on Decatur St. nearby (Maspero's version features a honey Tabasco glaze). The buttermilk waffles at Creole House are super fluffy, or try Cafe Amelie's take, where the chicken is roasted, not fried. Cafe Amelie also has one of the most beautiful courtyards in the French Quarter (and the bar is very, very high).
Crabmeat Cheesecake
Don't let the name confuse you — this is not a dessert but rather a savory dish — a blend of fresh crabmeat, pecan crust, mushroom sauté, and Creole meuniere.
Where to try it: At the Palace Cafe, which is part of the Brennan's group of restaurants and has one of the few sidewalk dining options in the Quarter. Crabmeat Cheesecake is Palace Cafe's signature dish, and you can find it on the restaurant's jazz brunch menu along with other New Orleans lunch and brunch mainstays like shrimp remoulade.
Eggs Sardou
Eggs Sardou aren't as ubiquitous as, say, eggs Benedict, but this Creole dish is nevertheless a New Orleans brunch staple. Like eggs Benedict, eggs Sardou are poached, and served over steamed artichoke bottoms and topped with hollandaise sauce.
Where to try: At Antoine's popular jazz brunch, along with its famous oysters Rockefeller and shrimp remoulade. You'll also find eggs Benedict and Florentine on the brunch menu. Eggs Florentine is also poached eggs topped with hollandaise sauce, like Benedict, but served over creamed spinach.
French Toast/Pain Perdu
Pain Perdu means "lost bread," referring to the dish's ability to resurrect stale and otherwise lost to most purposes bread. For this version of French toast French bread is soaked in eggs and milk and then fried (sometimes deep-fried) or grilled, which results in a crisp and buttery exterior and a soft and custardy inside.
Where to try it: Chef Scott Boswell created a very popular Bananas Foster French toast for Stanley's breakfast and brunch menus (served all day). The battered French bread is topped with sliced bananas, toasted walnuts and Foster sauce, and served with vanilla ice cream. This is of course a nod to the classic Bananas Foster dessert, which originated at New Orleans' own Brennan's Restaurant and is still its most-ordered item.
A locally owned mini-chain with one location at the edge of the French Quarter on Canal St., Ruby Slipper hits all the right notes when it comes to brunch mainstays but with a distinctly Louisiana twists. This brunch queen has a version of Bananas Foster pain perdu that fits right in with eggs cochon and the acclaimed house specialty, BBQ shrimp and grits. It's made with French bread, of course, and is served with rum-flambéed bananas and applewood-smoked bacon. For a lighter version of this dish, head to Meauxbar — the restaurant's pain perdu incorporates house-made ricotta and comes with whatever fruit is in season.
Gumbo
One of Louisiana's most famous dishes, excellent gumbo is easy to find in the French Quarter — it just depends whether you like your gumbo with darker or lighter roux, and with meat or seafood (or laden with both). Most restaurants include at least two versions on the menu, the meat and the seafood, and tend not to stray too far from the classic Cajun and Creole recipes.
Where to try it: The Gumbo Shop serves a seafood and okra gumbo that is thick with shrimp and crabmeat; a smoky chicken and andouille sausage gumbo; and even gumbo z'herbes, a rarely-seen vegetarian gumbo made with greens. Cup-sized portions are available for easy sampling. Gumbo Ya-Ya, a house specialty at Mr. B's Bistro, is a Cajun country-style gumbo made with dark roux, lots of Creole spices, chicken, and Andouille sausage. (Pair it with Mr. B's legendary BBQ shrimp, which comes with French bread for dipping, and a bib).
Jambalaya
This flavorful one-pot, rice-based dish is right up there with gumbo when it comes to the well-deserved international fame, and can be found in many French Quarter restaurants. This staple traditionally incorporates stock, meat, seafood, long-grain rice, and vegetables (like the "holy trinity" also used in gumbo — bell pepper, onion and celery). The main distinction is that the Creole version has tomatoes and the Cajun recipe does not.
Where to try it: One of the best versions you can find in the French Quarter is served at a local watering hole on a busy block of Decatur St., Coop's Place. Coop's Cajun-style rabbit and sausage jambalaya can be upgraded to "supreme" by adding shrimp and tasso, a spicy Cajun ham smoked on premises. No reservations are accepted at this casual joint, and no one under 18 is allowed inside because of the video poker machines.
To sample jambalaya in a more upscale setting, try the version cooked up at the Pelican Club, which adds clams, mussels and crawfish to the traditional ingredients of sausage, chicken and shrimp. If you just want a taste, the spicy jambalaya at Napoleon House comes with chicken and sausage and could be ordered as an appetizer or as a side. Consider pairing it with the restaurant's famous muffaletta and washing it down with its signature drink, Pimm's Cup. And the New Orleans Creole Cookery has a vegetarian version, not something many restaurants offer.
Shrimp and Grits
This iconic Louisiana dish is served on many lunch and brunch menus in the French Quarter, with local chefs often adding their own twist.
Where to try it: Cafe Amelie's beloved shrimp and grits is served with corn and andouille maque choux, a winning bet right there. Mr.B's Bistro wraps its shrimp in bacon, and Salon by Sucre offers its specialty grits with a choice of shrimp but also crawfish or mushrooms.
Turtle Soup
This Louisiana classic is considered a delicacy in many cultures across the globe. The silky Creole version, served with a touch of sherry (and sometimes with grated or chopped egg, and more sherry tableside), can be found in many classic New Orleans restaurants that serve Creole dishes, including, famously, Commander's Palace and Brennan's.
Where to try it: You can enjoy the old-world Creole decadence, along with its legendary turtle soup, at Arnaud's Sunday jazz brunch, which features Dixieland and a prix fixe menu. Court of Two Sisters also offers turtle soup on its everyday jazz brunch menu, along with a sumptuous spread that includes Louisiana classics like grits and grillades, a seafood buffet, and a carving station. Want a view of Jackson Square with your turtle soup? Muriel's got you covered with its elegant weekend brunch, accompanied by the sounds of live jazz music and a Ramos gin fizz or a Sazerac.
5 Dinner Dishes That Define New Orleans Cuisine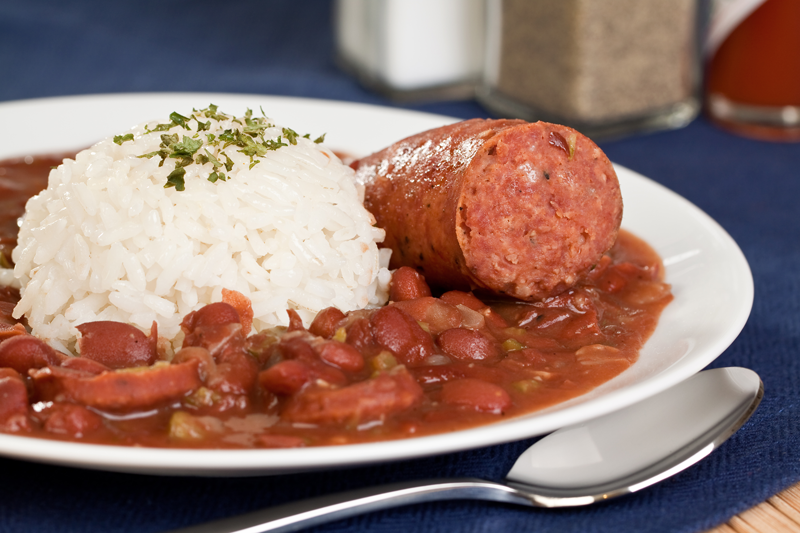 You can easily find delicious renditions of the New Orleans and southern staples that make the food-bucket lists for very good reasons in many restaurants in the French Quarter, from the ambitious newcomers to the old-world landmarks. Here are our five top picks of the dinner dishes that define New Orleans and where to try them in the French Quarter.
Crawfish Étouffée
This spicy seafood stew, made with shrimp or crawfish, is a traditional Creole/Cajun favorite (the French word étouffée, pronounced "eh-too-fey," means "smothered"). The iconic Galatoire's (209 Bourbon St.) serves a classic shrimp étouffée over rice as an entree and, like many other restaurants, also offers it as an add-on topping over fish. For a more casual dining option, head to Deanie's Seafood (841 Bienville St.).
Gumbo
One of Louisiana's most famous dishes, excellent gumbo is easy to find anywhere in New Orleans, it just depends whether you like your gumbo with a darker or lighter roux, and with meat or seafood (or both). Appropriately enough, the French Quarter restaurant that includes the dish in its name is a great place to try several of its varieties. Gumbo Shop (630 St. Peter St.) serves a seafood and okra gumbo that is thick with shrimp and crabmeat, a smoky chicken and andouille sausage gumbo, and even gumbo z'herbes, a rarely-seen vegetarian gumbo made with greens. Gumbo Ya-Ya, a house specialty at Mr. B's Bistro (201 Royal St), is a Cajun country-style gumbo made with a dark roux, lots of Creole spices, chicken, and Andouille sausage.
Jambalaya
This flavorful one-pot, rice-based dish is right up there with gumbo when it comes to the well-deserved international fame. This staple traditionally incorporates stock, meat, seafood, long-grain rice, and vegetables (like the "holy trinity" also used in gumbo — bell pepper, onion and celery). The main distinction is that the Creole version has tomatoes and the Cajun recipe does not. You can find one of the best versions of jambalaya at the casual Coop's Place (1109 Decatur St.). Coop's rabbit and sausage jambalaya can be upgraded to "supreme" by adding shrimp and tasso, a spicy Cajun ham smoked on-premises.
If you just want a taste, the spicy jambalaya at Napoleon House (500 Chartres St.) comes with chicken and sausage and could be ordered as an appetizer or as a side. And the New Orleans Creole Cookery (508 Toulouse St.) has a vegetarian version, not something many restaurants offer.
Po-Boys
A po-boy is a sandwich (just please don't call it that) that comes in as many versions as there are ingredients to stuff inside a loaf of French bread. Some of the classics are fried seafood, like oysters or shrimp, but the ingredients vary all the way up to French fries. Ask for your po-boy "dressed," so it will come with lettuce, tomato, pickles, and mayonnaise.
Johnny's Po-Boy Restaurant (511 St. Louis St.) has been dishing them out since 1950, and Killer Poboys (219 Dauphine St.) plays around with the non-traditional ingredients. Or venture to the very edge of the Quarter to the Rampart Food Store (1700 N. Rampart St.), where the fried shrimp po-boy is the stuff of culinary legend.
Red Beans and Rice
In the past, Monday was traditionally laundry day in New Orleans, and also the day for having red beans and rice. Our laundry schedules aren't that rigid anymore, but you can still find a delicious plate of beans and rice around town, usually accompanied by a hunk of smoked sausage. While many restaurants still feature it as a Monday special, you can still find beans and rice on many menus on any day of the week. A particularly delicious version is served every day at the kid-friendly Remoulade (309 Bourbon St.), the casual-dining offshoot of the iconic Arnaud's next door.
Seafood Restaurants Within Walking Distance of the French Market Inn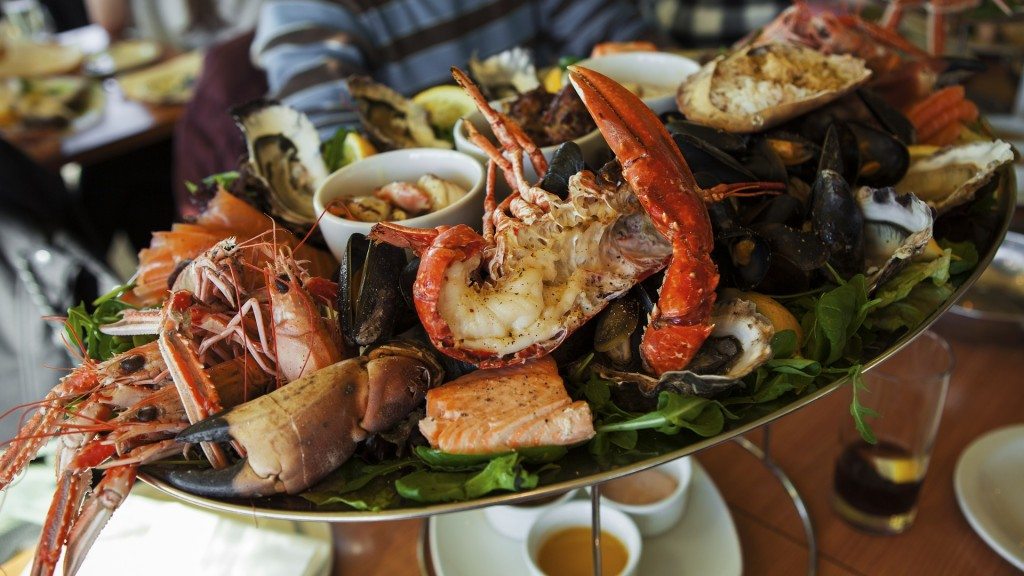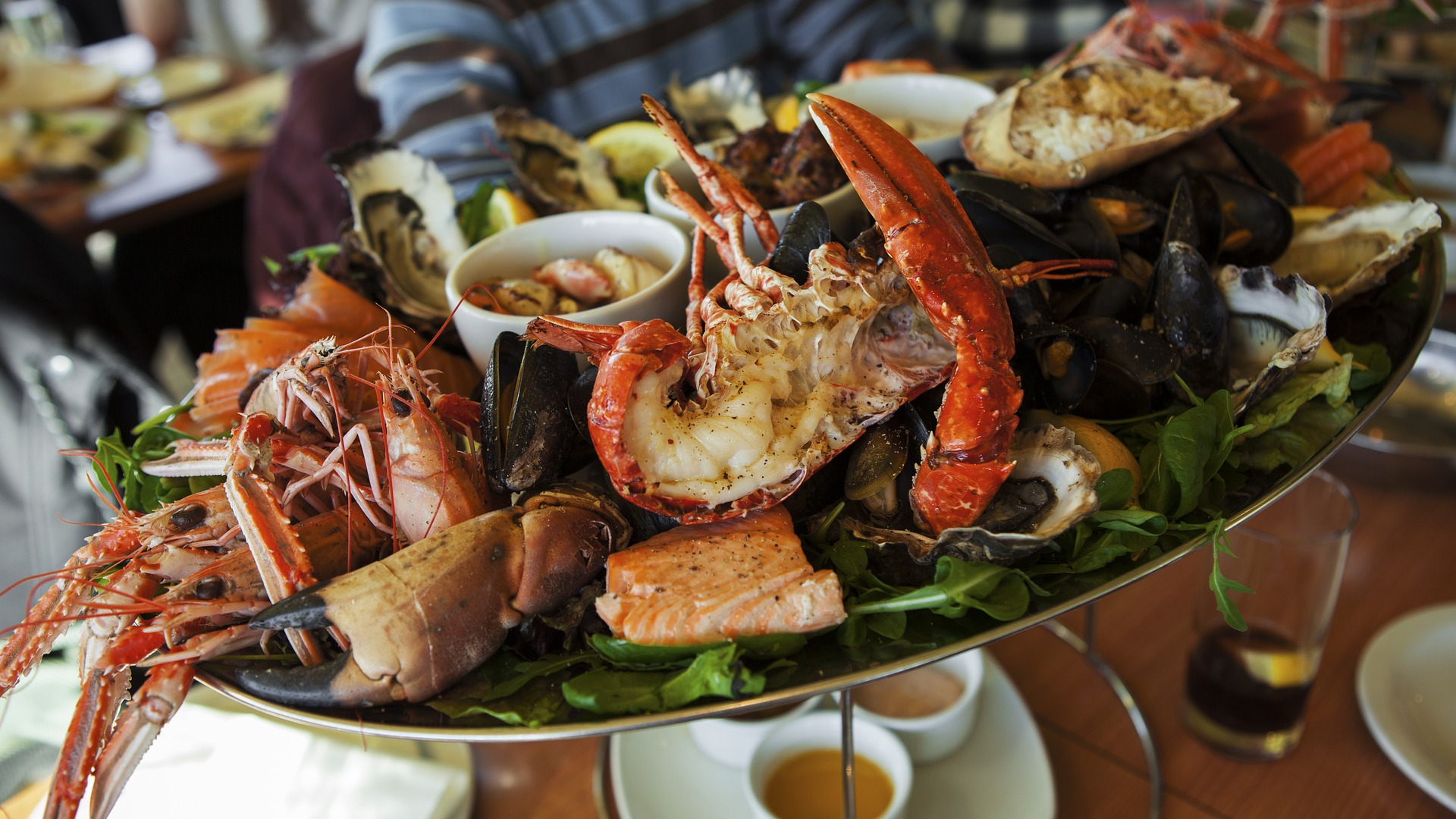 With its location on the Gulf of Mexico, it should come as no surprise that New Orleans has some of the best seafood in the country. Because of this, seafood has become ingrained in the culture; all of these mouthwatering images come to mind as a completely unique culinary experience: tables loaded with hot and fresh boiled crawfish, red potatoes, garlic, and corn, trays of dozens of raw oysters served with a little wedge of lemon and hot sauce on the side, or crispy and crunchy breaded catfish stacked up on French bread with tartar sauce.
Here are a few of our favorite seafood restaurants in the French Quarter.
Deanie's Seafood (841 Iberville Street)
Like Drago's, Deanie's has a location both in Metairie, Louisiana as well as the French Quarter of New Orleans. The restaurant is usually staffed with locals sporting a thick "y'at" accent. Unless you're from around these parts, you may be wondering what "y'at" even means! The "y'at" dialect is probably the most recognizable in the city, and it bears a resemblance to a New York City accent. Basically, the "y'at" accent is authentic New Orleans in its rawest form. Luckily enough for its patrons, the menu mimics the authentic New Orleans character of Deanie's Seafood. If you're starting off your meal, we highly recommend the barbecue shrimp and calamari, but once you work your way down the menu, and your table is still feeling extra ravenous, Deanie's well-known Seafood Platter is a delicious and generous accumulation of underwater bounty that just may be the highlight of your trip to New Orleans. Shrimp, oysters, catfish, softshell crabs, and crawfish balls served on a bed of French fries…like, seriously how much better can life get? It's a delectable moment that is sure to become one of your favorite travel memories!
GW Fins (808 Bienville Street)
Maybe GW Fins hasn't been around as long as some of these other New Orleans culinary staples, but it sure has made a name for itself in the past seventeen years. With a refined menu chock-full of innovative spins on classic New Orleanian dishes, GW Fins has become a favorite among locals and tourists alike. Yes, its stylish warehouse-like aesthetic is impressive, but the fresh fish is definitely the highlight of this upscale dining experience; each day at 4:00 p.m. sharp, the restaurant receives their daily catch. Red Snapper with Local Crawfish Etouffée, Local Drum with a Chicken Cracklin' Crust, and Blackened Swordfish with Fresh Shrimp and Chili Hollandaise: each dish's flavor profile is not only out of this world, but it is also uniquely Southern. It's definitely the perfect dinner spot for an anniversary, graduation, or other special occasion.
Oceana Grill (739 Conti Street)
We all know very well that New Orleans is a party city, which is a large draw for many tourists. After a late night music, theater, comedy, or burlesque performance, you may be looking for something delicious to munch on; let's face it: nothing makes your hungrier than a good party. Oceana Grill is the perfect stop for your late night seafood fix. In fact, Oceana Grill is the only French Quarter restaurant serving its complete dinner menu until 1 AM. If your hotel bed is just feeling too comfortable after a long day of sightseeing, they also deliver! You'll find all of the local favorites such as Oyster Rockefeller, Turtle Soup, Seafood Po'boys and Platters, and Shrimp Creole.
Where To Find Desserts Near French Market Inn
Is there a better place to indulge your sweet tooth than New Orleans? We think not. With the French (and Spanish) roots and its rich Creole and Cajun cuisines, the Crescent City is not a place to count calories. From pralines to Doberge cake to beignets to Bananas Foster there is an abundance of confections that will satisfy even the most discerning dessert lover. Here are our five picks for best dessert and where to get it in the French Quarter.
Bananas Foster
Bananas Foster was made famous by way of New Orleans. Today, this decadent dessert remains a staple, impressively served flambéed tableside as it was intended, or in many delicious variations (as a pie, ice cream, or French toast) in some of the best restaurants in the city. Its creation in 1951 is credited to Paul Blangé, a Brennan's Restaurant chef. Chef Blangé came up with sautéing the bananas in butter, sugar and cinnamon, and then adding rum and igniting the concoction. The dessert was named after Richard Foster, a friend of Owen Brennan and the chairman of the New Orleans Crime Commission.
To this day, the original-recipe Bananas Foster atBrennan's Restaurant (417 Royal St.) is its most-ordered item. The restaurant reportedly flames 35,000 pounds of bananas for the famous dessert.
Beignets
Those little deep-fried pockets of doughy goodness dusted with powdered sugar are one of the city's most iconic culinary treats. The beignet is honored with its own festival and is beloved unconditionally. Getting an order of beignets with a cup of café au lait at the 24/7 Café du Monde (800 Decatur St.) is one of the most classic New Orleans experiences you can have, as is getting that pesky powdered sugar all over yourself.
Bread Pudding
A mainstay finale at many a storied Creole restaurant in the city, bread pudding rules here. Its roots go back centuries and way beyond stale bread. The Southern-style bread pudding is typically made with French bread and served warm, usually covered in rich, boozy sauce and topped with pecans, walnuts or raisins.
You can get the variations of the dessert ranging from traditional to new interpretations all over the French Quarter, but we especially recommend "Bread Pudding Fitzmorris" at Arnaud's (813 Bienville St.). It's named after the city's famous food critic and radio host of "The Food Show" on WWL Tom Fitzmorris because apparently, Fitzmorris praised this version of the dessert so much the restaurant owner named it after him. This version is layered with thick slabs of custard and thinner layers of cinnamon and topped with rum-soaked raisins and whiskey sauce.
Grasshopper
This sweet liquid offering celebrated 100 years in 2018. The onetime owner of the Tujague's (823 Decatur St.) restaurant, Philibert Guichet, invented the drink for a 1918 cocktail competition in New York City. The combination of equal parts crème de menthe, crème de cacao, and cream known as the Grasshopper sports an unmistakable green color and packs a sugary punch. It became so popular it now holds a permanent spot on the restaurant's cocktail menu. The Bombay Club (830 Conti St.) also makes a version, and you can sip to live jazz.
Pralines
This classic southern confection makes for a great edible souvenir to take home and is pretty easy to find in the French Quarter. Southern Candymakers (334 Decatur St.) makes small batches daily. You can also find fresh and delicious pralines at Loretta's location at the French Market.
Late Night Eats in the French Quarter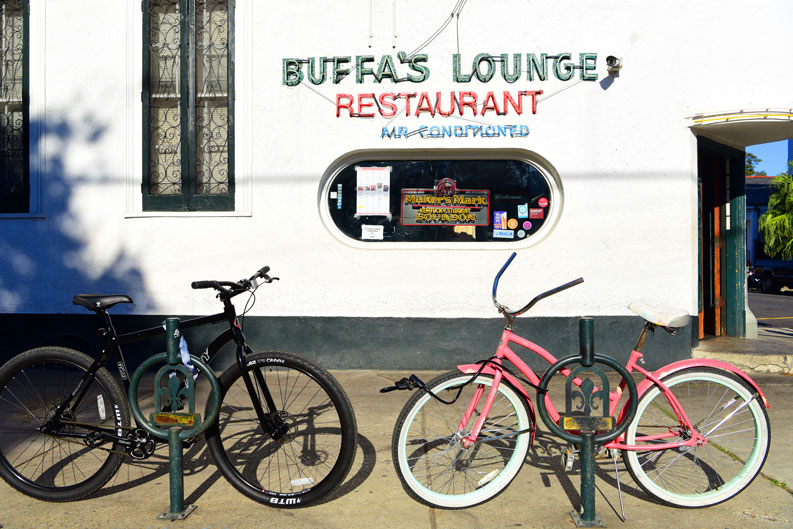 Buffa's
1001 Esplanade Ave.
Around since 1939, the iconic Buffa's is perched just outside of the French Quarter on Esplanade Avenue. It's beloved by locals, has live music in the back room seven days a week, and excellent burgers. The signature Fitzgerald, served between 4 and 8 a.m., is a heaping plate of eggs, sausage or bacon, and toast, but there are Southern classics like shrimp Creole omelet, boudin balls, and deep-fried honey praline ham sandwich too.
Open 24 hours.
Café du Monde
800 Decatur St. (French Market)
This mainstay needs no introduction and will eagerly satisfy your cravings with delicious beignets and a cup of cafe au lait, rounds the clock.
Open 24 hours.
Cane & Table
1113 Decatur St.
Cane & Table made a name for itself with its potent rum-based cocktails and eclectic, Caribbean-influenced small and large plates in the elegant space that evokes Old Havana. Park yourself in the gorgeous courtyard while you try tuna tostada and Caribbean spiced ribs.
Open till 11 p.m. seven days a week.
Clover Grill
900 Bourbon St.
The tile-and-chrome diner has been representing what's weird and wonderful about the Quarter since 1939. The no-frills food comes under the motto, "We love to fry, and it shows," but it's the scene you might want to come for, both inside and outside the diner.
Open 24 hours.
Coop's Place
1109 Decatur St.
If you want a quick, inexpensive meal any time of day or night, with some local color thrown in, Coop's Place is unbeatable. Located on the always-busy stretch of Decatur Street, Coop's is both a divey bar and restaurant with a surprisingly extensive menu. One of the standouts is the seafood gumbo. It comes with Coop's own dark roux, okra, filé powder, shrimp, oysters, and crab claws. (You can ask for extra seafood.) Follow the gumbo with Coop's excellent rabbit and sausage jambalaya. Note: No one under 21 is allowed.
Open until 2 a.m.
Cosimo's
1201 Burgundy St.
This cozy, dog-friendly neighborhood bar mixes up a huge mahogany bar, colorful locals, pool table in the back room, darts, and seriously good bar food like boudin balls and pizza. There are also taco Tuesdays and crawfish when in season. Trust us, this one is a gem.
Open till midnight seven days a week.
Cuñada
833 Conti St.
Cuñada ("sister-in-law" in Spanish) is a tiny family-owned Mexican spot with tacos, carnitas and other specialties plus agave-based margaritas, and a wide variety of Mexican beer.
Open till 4 a.m. seven days a week.
Daisy Dukes
121 Chartres St.
Local chain serving seafood and Cajun-Southern comfort fare like po-boys, oysters and pork chops platters, plus breakfast all day and bottomless Cajun Bloody Marys.
Open 24 hours. Also delivers.
Déjà Vu Restaurant and Bar
400 Dauphine St.
Déjà Vu servs up New Orleans staples like biscuits and gravy, seafood po-boys, and gumbo and jambalaya. Tuesdays and Thursdays are steak nights, plus there are poker machines, a jukebox, big-screen TVs, and plenty of people-watching.
Open 24 hours.
Effervescence
1036 N. Rampart St.
Effervescence opened its tall doors on N. Rampart St. in March of 2017 and has become the destination for high-to-low sparkling wines from all over the world, champagnes, small plates, and live music. The setting is modern and polished, and there's ample outdoor seating. There's also a full bar, and dozens of still wine by the glass and bottle. The small plates are meant to be shared — like the Gulf seafood plate or crispy Brussels sprouts. Effervescence is also a good spot to try caviar, from the prized ossetra to the local (and more affordable) bowfin.
Open till 11 p.m. Wed.-Thu.; till midnight Fri.-Sat.
Erin Rose
811 Conti St.
Erin Rose is a low-key watering hole favored by the locals, located just a few doors away from Bourbon Street. Check the memorabilia galore and try the bar's excellent frozen Irish coffee or a Bloody Mary (made with the house secret recipe). Of course, there's Guinness on tap plus a selection of local brews. The bar is home to the popular Killer Poboys (look for the takeout window in the back). Everything on the small but mighty menu is delicious.
Open till 7 a.m. seven days a week.
Faubourg Bistro
700 Burgundy St.
Faubourg Bistro is located in the back of the French Quarter's 700 Club NOLA (you have to order from the kitchen window, just like at Erin Rose). You'll find the comfort fare of shareable plates like loaded fries and mac and cheese (including skillet-size), plus gourmet sandwiches. Perfect for late-night noshing.
Open till 2 a.m. Mon.-Sun.; delivery available till midnight.
Justine
225 Chartres St.
This stylish and popular brasserie is one of the latest additions to the French Quarter dining scene, opened by husband-and-wife team Justin and Mia Devillier. The high-end late-night menu on Saturdays and Sundays is served till 1 a.m., and includes mussels, onion soup, steak tartare, and other French-centric delights.
Open till 11 p.m. Mon.-Fri.; till 1 a.m. Sat.-Sun.
Quarter Master Deli
1100 Bourbon St.
This takeout/delivery 24-hour institution is also known the Nellie Deli. Quarter Master's menu is full of burgers, overstuffed po-boys, house-made salads, and other New Orleans-style Southern fare like BBQ chicken and ribs. There are also a hearty breakfast and late-night menus.
Open 24 hours.
Saint Lawrence
219 N. Peters St.
Billed as a Louisiana gastropub, Saint Lawrence lives up to it with a generous beer selection, hearty Southern fare, and signature frozen daiquiris like Pimm's Cup.
Open till 2 a.m. seven days a week.
The Bombay Club
830 Conti St.
Located in the elegant Prince Conti Hotel, the Bombay Club offers some the most refined food you'll find in the French Quarter after 9 p.m., served among polished wood and high-end cocktails. Small bites include such classics as duck and Andouille gumbo; entrees range from other Louisiana favorites like Gulf fish and shrimp and grits to the European nods like fish and chips. The sheer number of martinis on the menu alone will blow you away, and there's live music too.
Bar open till midnight Sun.-Thu., till 1 a.m. Fri.-Sat.; Dinner: till 10 p.m. Sun.-Thu., till 11 p.m. Fri.-Sat.
Verti Marte
1201 Royal St.
If it's late at night and you "need" a po-boy, head on down this tiny 24-hour takeout-only deli on Royal St. with a loyal following. There's plenty to love on the menu of this bastion of calories, but you can't go wrong with the epic specialty sandwiches like the vegetarian Green Giant and the mountainous All That Jazz — with grilled ham, turkey and shrimp, plus two cheeses, grilled veggies, and the special "wow" sauce. There's also the beloved "Mighty Muffuletta." It's overstuffed with ham, salami and cheese, but — here's the catch — it could be served hot or cold. So if you're not from the cold-cut purist camp and won't mind your cheese melty and your meat warm, this is one of the best places to try the hot version.
Open 24 hours.
Culinary and Cocktail Tours in the French Quarter and Nearby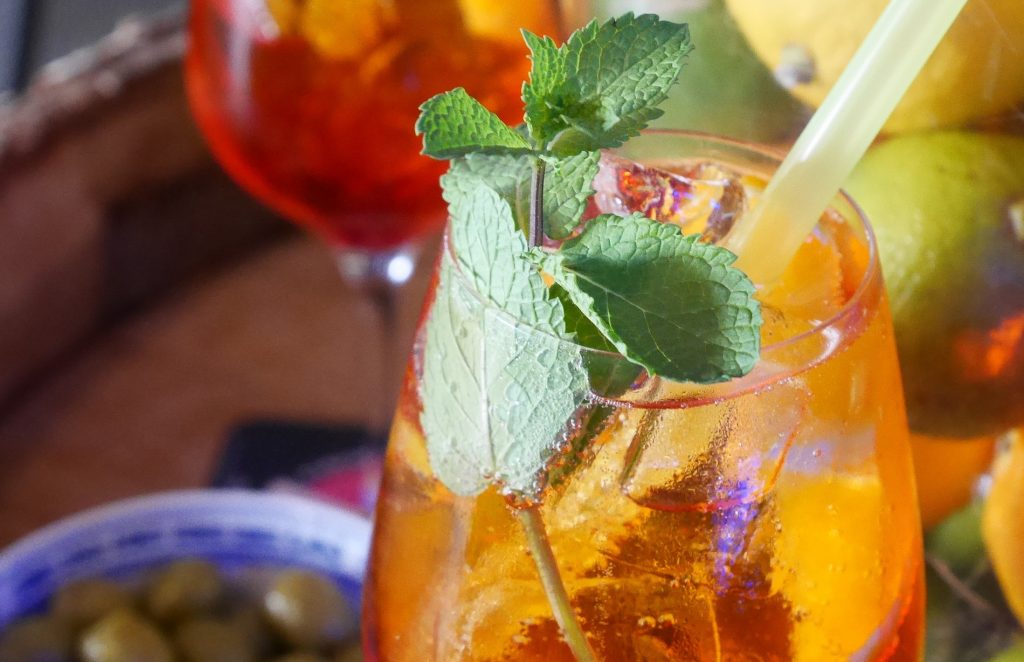 Navigating the French Quarter and nearby areas — one po-boy or Sazerac at a time — is no small feat because the choices are many, all of them delicious. Whether you prefer to be guided through a narrated tour by a savvy local or explore on your own, there's plenty of excellent food and beverages to try, with a heavy dose of centuries'-worth of history attached.
Hop-on/Hop-off bus
If you don't mind walking some, but still want to cover a lot of ground, taking a hop-on, hop-off City Sightseeing bus might be an ideal option. These tours are conducted on an open-top double-decker bus that runs through the French Quarter, Garden District and CBD on a two-hour loop. You can hop off anytime at any stop, explore on your own, then hop back on.
The buses stop at 18 designated stops and run every 30 minutes. One of the stops (where you can also buy tickets) is Basin St. Station Visitor Center, 501 Basin St. It's where the French Quarter meets Treme, making it a good starting point for walking through the St. Louis Cemetery #1 or the Armstrong Park before heading to the restaurants on Canal St. or towards the river and the foodie mecca of the French Market.
The unlimited one-day pass is $39 for adults and $10 for kids under 12. The best deal is unlimited three-day pass for $49, because it includes two guided walking tours of the French Quarter and the Garden District.
Self-guided Tour: the Farmers Market at the French Market
One of the City Sightseeing stops is the French Market, the oldest continually operating public market in the country since 1791. Consider a leisurely walk through approximately five blocks of this open-air market reminiscent of traditional European markets, from the daily flea market at the end of Esplanade Avenue to Cafe du Monde on Decatur St. for some beignets and cafe au lait.
Explore the racks of hot sauce and spices at the Farmers Market's many food stands, get a box of pralines or a beignet mix to take home, or try some of the seasonal local food like oysters and crawfish pies. If you're lucky (or unlucky, depending on your tolerance for hot temps) to be here in early June, the Farmers Market hosts an annual Creole Tomato Festival to celebrate its harvest.
By Bicycle
The Confederacy of Cruisers will take you off the beaten path and outside of the Quarter to Treme and the Marigny, and all the way to the 9th Ward and Mid-City. The company offers separate culinary and cocktail bicycle tours ($89 each, includes food and tips; 3.5-4 hrs). The tour stops vary, and include a wide sampling that reflects our unique culture. For instance, Bennachin for West African fare, St. Roch Market for some oysters, The Joint for beef brisket, or Elizabeth's Restaurant in Bywater (two words: praline bacon!). The Mid-City must-eat stops include po-boys at the Parkway Bakery & Tavern and, well, really anything at the sweet and heavenly Angelo Brocato.
The Booze and Bikes tour by Confederacy of Cruisers ($89 for a 3-hour tour, everything is included) is tailored to each group to include five stops, from the high end to a popular local dive, to enjoy the specialty drinks that made our city in/famous for its vibrant drinking culture.
Walking Tours
The French Quarter History & Cocktail Tour ($29, 3 hrs) offered by New Orleans Secrets Tours is not your average boozy pub crawl but rather a more elegant foray into the city's history that takes you on a walk of the French Quarter while you sample historic cocktails.
The Best Chefs of New Orleans Food Tour ($125, 4 hrs) by the same company is a culinary walking/dining tour, starting off with the first course at K-Paul's Louisiana Kitchen, followed by the second course at Emeril's NOLA (with a peek into its famous kitchen), continued all the way to dessert at one of chef Donald Link's and John Besh's restaurants, plus a beverage stop at the Hotel Monteleone's rotating Carousel Bar.
For a less scripted experience that's completely tailored to your tastes, consider a small private tour by Soul of NOLA ($300 total for up to 6 people, plus $40 per person for food; 3 hrs). Sample itinerary includes 3-4 stops at such places as the French Market, Palace Cafe and Kingfish, with opportunities to sample the local food that defines us — for example, Louisiana oysters and locally brewed beer, muffalettas, Andouille gumbo, and bananas Foster.
Cooking Demos and Exhibits
Want more than a taste and a glimpse into a local chef's kitchen? The New Orleans Cooking School Demonstration & Lunch experience combines a tasting tour of the French Quarter with a cooking demo and lunch on-premises ($84, 6.5 hrs). The daily menu is posted online and covers such Cajun and Creole classics as gumbo, jambalaya, crawfish etouffee, and pralines.
Finally, the small but mighty Southern Food & Beverage Museum ($10.50 regular admission) in Central City is worth a walkthrough for its permanent collection alone, but do check the museum's website for the list of current exhibits and cooking demos. Part of the space within the museum is dedicated to the Museum of the American Cocktail, a gem for mixologists, budding and seasoned alike.
Best Edible Souvenirs Near French Market Inn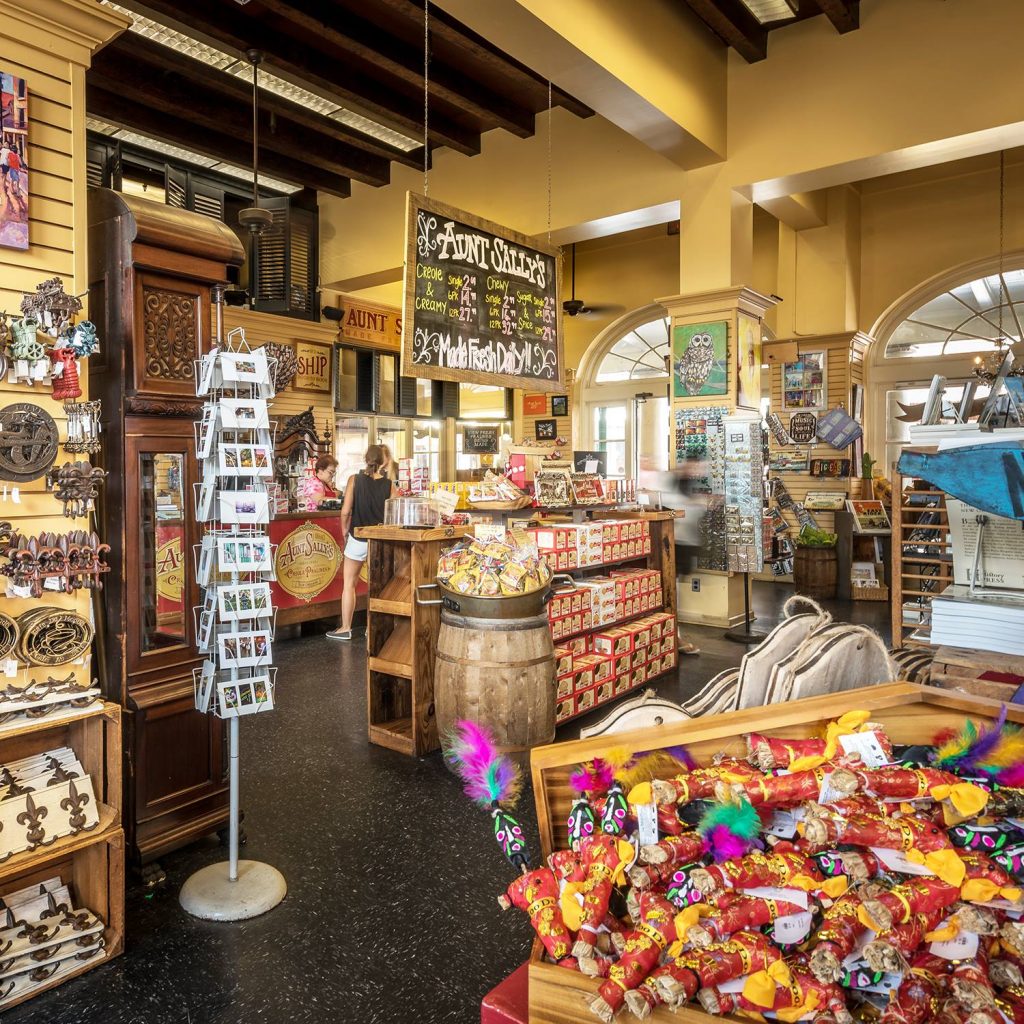 If you're like most New Orleans visitors, you'll spend a great deal of your time feasting on the bounty of local foods that originated here, a spicy blend of Creole, Cajun, French, Caribbean and West African cuisines. The best part? You can take many of these distinctive flavors home with you. Before you leave town, go shopping for edible souvenirs near the French Market Inn and stock up on your favorites.
French Market Hot Sauces
Authentic Louisiana hot sauces top most visitors' must-buy lists. You'll find hundreds of variations in the shops that line the six-block French Market District, ranging from mildly spicy brews to nuclear-level mouth bombs. The 200-year-old market's open air bazaar also offers a wealth of unique non-edible mementos.
Cafe Du Monde Beignet Mix & Coffee (800 Decatur)
Many tourist shops sell this two-for souvenir package, but the best place to buy it is at the source. Stop by Cafe Du Monde for a final plate of sugar-dusted beignets, dipped in cup of chicory-laced cafe au lait, and pick up a gift pack on your way out.
Aunt Sally's Original Pralines (810 Decatur)
Proceed directly from Cafe Du Monde to Aunt Sally's, where you can load up on the city's most iconic sweet treat. Aunt Sally's also boasts a host of other culinary souvenirs, from Cajun seasonings to muffuletta olive mix to Steen's Cane Syrup.
Bet you can't eat just one –– flavor, that is! Widely available at every corner grocery and drugstore, Zapp's chips come in multiple variations, each of which have diehard fans. Hotter 'N Hot Jalapenos, Spicy Cajun Crawtators, and Voodoo deliver the heat, Mesquite Bar-B-Que chips are delicously smoky, while Cajun Dills are tanged with vinegar. And don't overlook Regular Flavor, the thin, salty crunch that started it all.