How To French Quarter on a Budget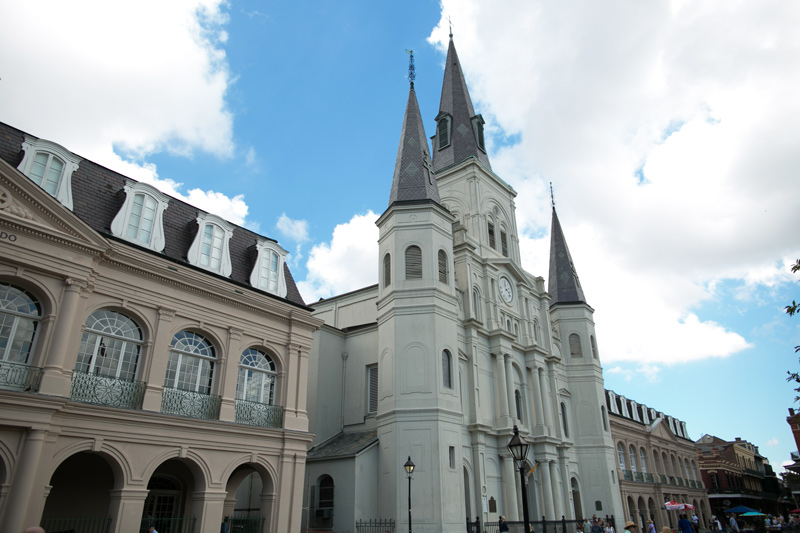 Photo by Trevor Mark
They say the best things in life are free, and that's certainly true in the Quarter. Just outside the French Market Inn is a living museum of historic architecture set along quaint streets, where musicians and street performers provide spontaneous entertainment almost any time of day or night. You don't have to spend a dime to visit a bounty of free destinations, and there are plenty of stops along the way where you can eat and drink heartily without busting the bank.
Have breakfast at the Clover Grill (900 Bourbon St.)
Rise and shine at this old-school Quarter diner, which serves daily breakfast specials from 5 a.m. to 11 a.m. Two-egg breakfasts with bacon or sausage, grits or hash browns cost just $6.29, and an extra $2 buys you a center cut pork chop or chicken fried steak.
Wander through Woldenberg Riverfront Park
Winding along the mighty Mississippi, this sprawling 16-acre park gives you a front row seat for watching the passing parade of ships that trawls the river for business and pleasure. Often used for festivals, it's also just a sweet place to chill.
Window shop on Royal Street
The grand family-owned shops on Royal St. are laden with all manner of exotic oddities and rare antiques. While you may not be able to afford that crystal chandelier or those 19th-century absinthe glasses, looking is free. And there's plenty to see!
 Visit The Historic New Orleans Collection
This free trove of local art, history and culture just underwent a major expansion and is a great springboard for learning about New Orleans' fascinating past.
Catch the action at Jackson Square
One of the city's most famous landmarks, the bustling sidewalks that line Jackson Square are filled with live-action artists selling their work, and fortune tellers divining the future. Street performers draw big crowds on the riverside steps, where just about anything can and does happen.
Grab a Po-Boy at Verti Marte (1201 Royal St.)
This little corner store, usually packed with locals, boasts a vast menu of Po-Boys, the city's most iconic sandwich. Go classic with a catfish, shrimp or oyster po-boy, which comes on an enormous French baguette and can easily feed two people. When they ask if you want it "dressed," just say yes. It's always the right answer.
Visit the New Orleans Jazz Museum in the Old U.S. Mint (400 Esplanade St.)
A jazz fan's dream, this free museum celebrates jazz in the city where it was born with a wealth of artifacts, including Louis Armstrong's first coronet, and an archive of nearly 10,000 original recordings dating back to piano rolls.
Bar hop your way through Happy Hour
Huey B. Long famously declared every man a king, and everyone's a king or queen when Happy Hour rolls around. Get an early start at Kingfish (337 Chartres Street, 2-7 p.m. daily), and get half-off beer and wine while noshing $5 plates of cracklins and boudin balls. For a more elegant take, visit Hermes Bar at Antoine's (725 St. Louis Street, 4-7 p.m. weekdays), where you can feel like a grande dame sipping $4 house brand cocktails and wine. Fancy a craft cocktail? Hit  Cane & Table (1113 Decatur St., 3-6 p.m. weekdays), a Caribbean-inspired spot that offers specials on classic and nouveau cocktails and delicious small-plate tapas like tuna tostadas.