Run Like No One's Watching at Running of the Bulls in New Orleans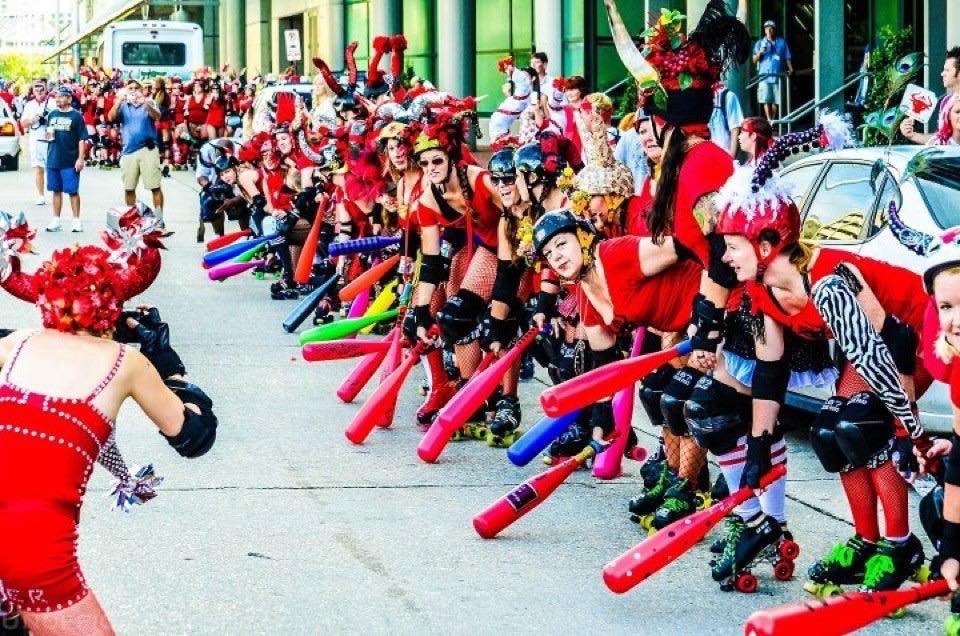 It's 6:30 a.m., and thousands of people have gathered in the streets of downtown New Orleans, drinking, eating, and preparing for an event like no other. This isn't your ordinary Saturday morning. This is New Orleans's version of Spain's Encierro de Pamplona, San Fermin in Nueva Orleans!
The "bulls" are actually the Big Easy Rollergirls (plus the participants from the other roller derby leagues across the country) on skates. The runners, wearing white with red accents, attempt to run away from the girls as they chase after them with wiffle ball bats. This eccentric festival will be taking place in New Orleans from August 23-25, centering around the Sugar Mill (1021 Convention Center Blvd.) in Downtown New Orleans.
The Encierro
The festival stretches over the weekend, but the run itself takes place on Saturday, August 24. Beginning at 6:30 a.m., join thousands of runners, wearing all white and accessorized with red scarves and handkerchiefs, by the Sugar Mill. Live music, beer, sangria, and food trucks on site to get things going. The participants get the party started by saying a prayer to Saint Fermin (Pamplona's patron saint). After the Procession of San Fermin and the Invocation, the race starts at 8 a.m. sharp.
While there is no dress code, the runners are encouraged to dress in the style of Spain's Encierro de Pamplona: white top and bottom, with something red around the waist and the neck. This being New Orleans, many runners do, and get very creative with their gear. The Derby girls wear red and black with horns and various other accessories meant to intimidate the runners.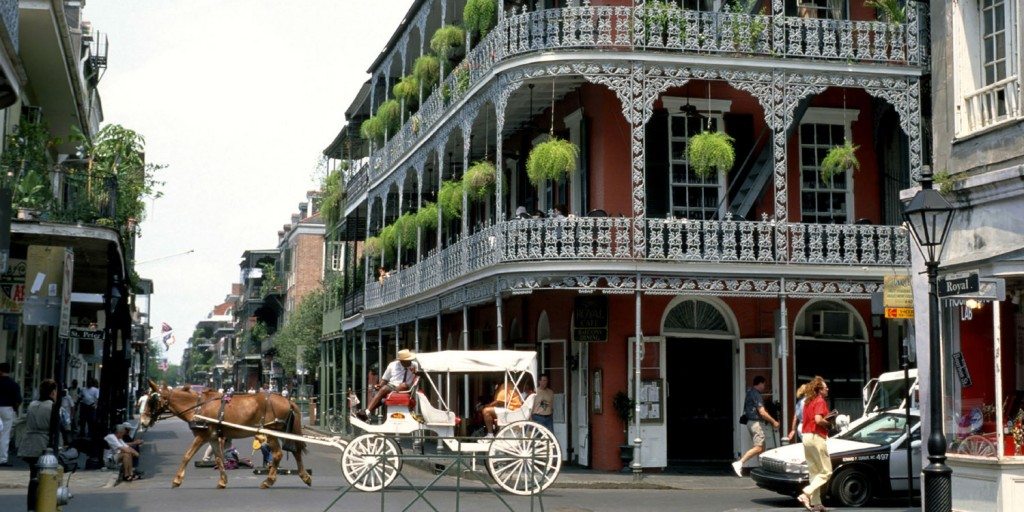 The Pre- and Post-run Events
The run lasts till about 11:30 a.m. (you can check out the route here), followed by a live music show back at the Sugar Mill. After that, you can attend the traditional La Fiesta de Pantalones, held this year at the Rusty Nail (1100 Constance St.) starting at 11:30 a.m., or join the other revelers who stick around to make a day of it bar-crawling downtown.
On Friday, August 23, the festival opens with El Txupinazo (and pronounced "el choo-pin-AHT-so"), hosted by one of the charities that benefits from this festival, Beth's Friends Forever, at the Sugar Mill, 5-9 p.m. There will be an auction, live music, and food from Apolline, Atchafalaya, Bacchanal, Commander's Palace, Sobou, and Tavolino.
Recover the next day after the race at Sunday's annual event, El Pobre de Mi ("Poor Me"), an Ernest Hemingway-themed party at Lula Restaurant Distillery (1532 St. Charles Ave.), 10 a.m. – 2 p.m., with Roxie Le Rouge's Big Deal Burlesque, cocktails, and a Papa Hemingway look-a-like contest. This is a non-ticketed event, and there's no cover.
All events happening on Friday and Saturday are ticketed (tickets are $30-$95). Proceeds go to Beth's Friends Forever, a charity named after Nola Bulls cofounder Beth Hanning, which raises money for financially needy women fighting cancer in the Greater New Orleans area; and the  Big Easy Animal Rescue.
On a final note, do NOT underestimate the "bulls" as they will not hold back when it comes to whacking participants with the wiffle ball bats. In fact, some participants really get into it and even yell at the bulls to entice them to chase after them. Dangerous? You'll have to decide for yourself!