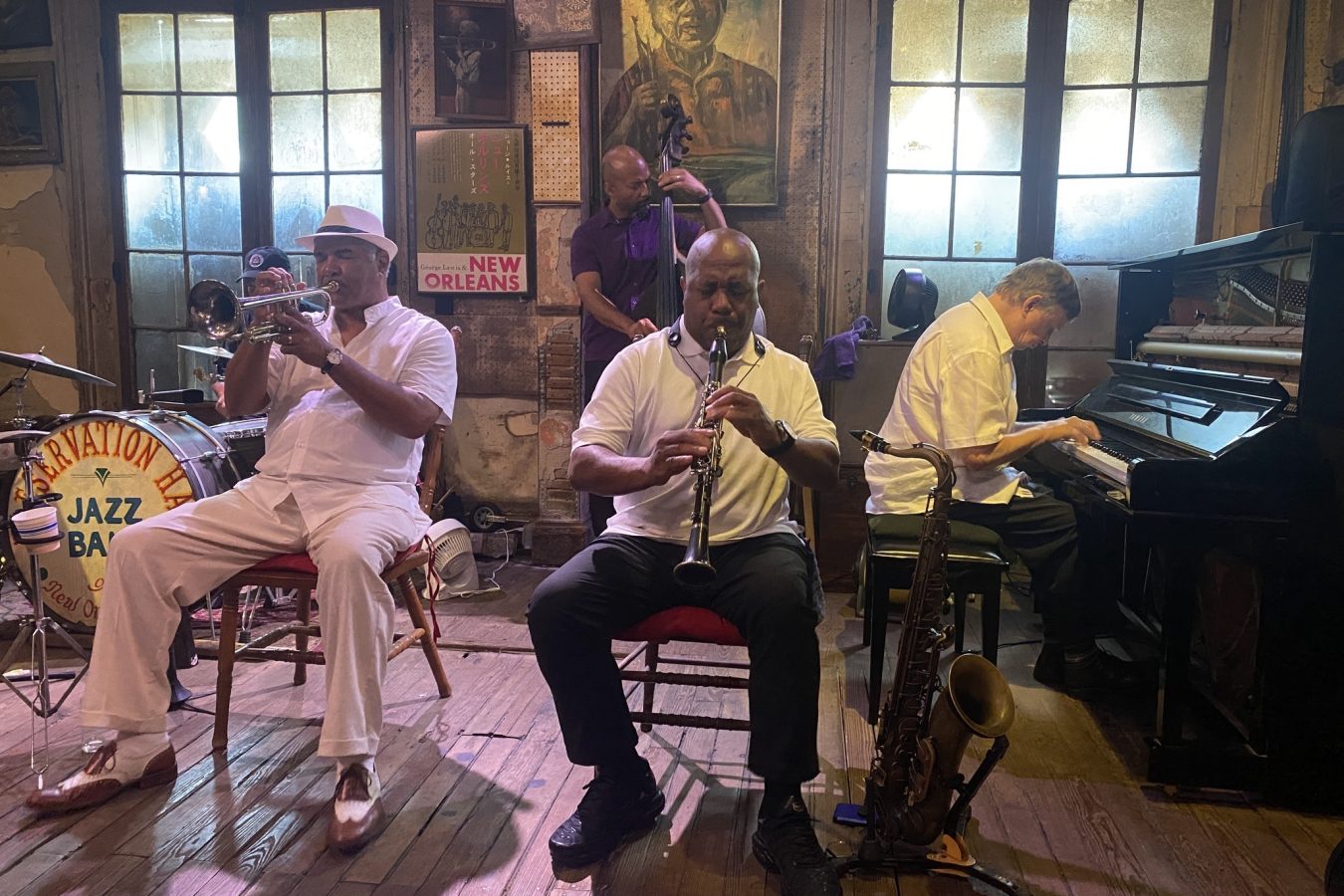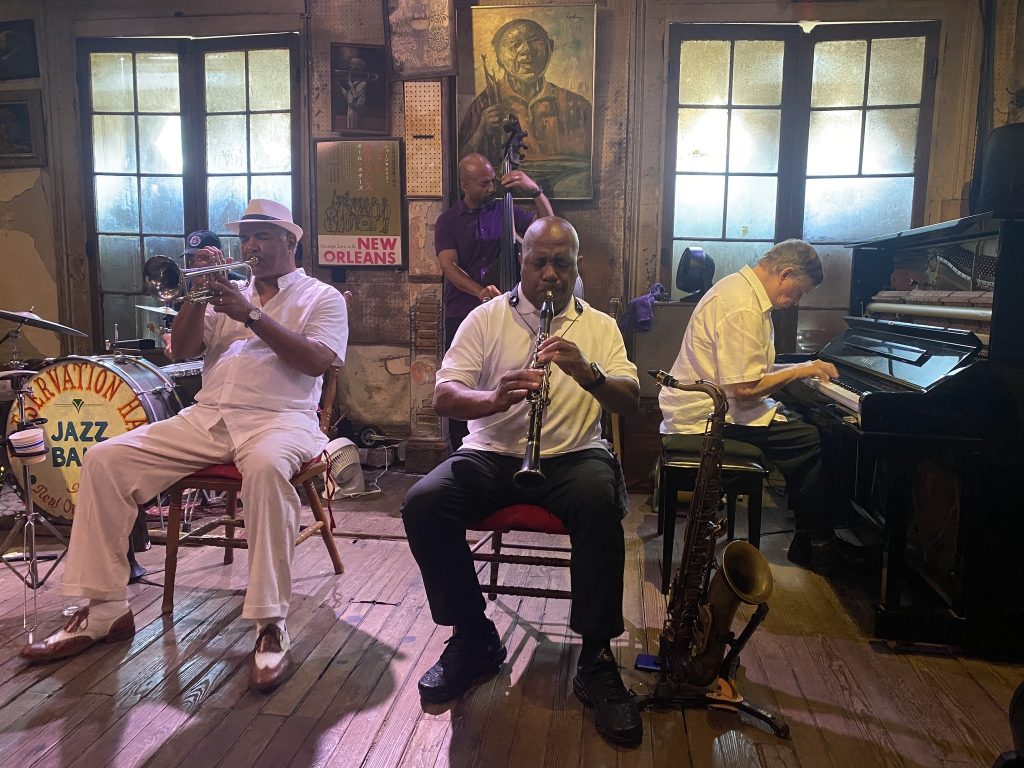 New Orleans is a music city, and if you're staying in the French Quarter you are in luck as you can walk to many venues that dish out excellent, world-class live music nightly, often for a low cover. Sometimes it's even free — all you need to do is walk around and catch a band on a street corner.
Also, there's no better place for live music than the Marigny Triangle. Situated between Esplanade Avenue and Elysian Fields, this wedge-shaped neighborhood is bisected by Frenchmen Street, a pedestrian-friendly strip of music clubs, bars, restaurants, and an art market, some of which don't get going until after 10 p.m. The vibe is a giant block party, and you can easily walk there from the hotel.
So, here's just a sliver of where to check out the city's robust live music culture near the French Market Inn.
In the French Quarter
725 Iberville Street
Prohibition-era 21st Amendment Bar is located just a half-block off Bourbon Street. The bar takes its name from the 21st Amendment to the U.S. Constitution, which repealed the 18th Amendment creating Prohibition (the ban on alcohol production and sales) in 1920. The space was originally a hotel and restaurant called La Louisiane when it was established in 1933; the same year, Prohibition ended. Black-and-white images of mobsters adorn the walls, and inventive craft cocktails abound.
733 Bourbon Street
Fritzel's is a great spot for live jazz, and it regularly dishes out plenty of old-school Dixieland. It's calm and laid back in almost inverse proportion to much of the rest of Bourbon Street — a perfect stop if you're feeling overwhelmed by all the crowds, or if you just want to listen to some good music.
New Orleans Street Music
Royal Street, Jackson Square, Bourbon Street)
You don't have to buy a cocktail or pay a cover to hear great jazz. Playing on the street is a New Orleans tradition, and many successful music careers have started that way. You might catch a band on the corners throughout the Quarter nightly, especially on Bourbon and Royal, plus on Jackson Square. Frenchmen Street in the Marigny also hosts impromptu performances nightly. Drop a tip in a jar, and enjoy.
726 St. Peter Street
There's no food or drink for sale or public restrooms at this no-frills, all-ages venue (you can bring your own drinks). What you will find, though, is a bastion of traditional New Orleans jazz that has branched out in recent years to embrace performances by artists ranging from Mos Def to Foo Fighters. Grab a go-cup and get ready to sweat it out — a concert at Pres Hall is truly a New Orleans bucket list item.
830 Conti Street
When former owner Richard Fiske took the wheel at Bombay Club in the early 2000s, jazz was scarce in the Quarter (except for Preservation Hall). Fiske aimed to make The Bombay Club a live jazz destination on par with nightclubs of the 1940s. He succeeded at his task, and although he has since passed on, his legacy continues in the nightly lineup of jazz luminaries. There's no better place to savor music alongside new Louisiana cuisine and cocktails, all in a comfortably luxurious atmosphere.
On Frenchmen Street
508 Frenchmen Street
A music club that triples as a restaurant and bar. It's three-level, with multiple stages where you can find drag, burlesque, and live music of many genres. The menu is primarily New Orleans classics, a house burger, and sandwich platters.
514 Frenchmen Street
Here, you'll find casual New Orleans fare like po-boys and jambalaya. The no-cover eclectic live music seven days a week is another draw.
532 Frenchmen Street
One of the longest-standing clubs on Frenchmen Street is a must for live jazz and local brass. On any given night, you can catch a performance by the city's top musicians like Kermit Ruffins and Big Sam's Funky Nation. It's also a great spot to see the Mardi Gras Indians do a show.
536 Frenchmen Street
Grab a seat at the bar or a tall bistro table, order Chef Daniel Esses' tapas and one of the on-point house cocktails, and settle in for an intimate night of music. Curated by musician and Frenchmen Street fixture Sophie Lee, the nightly lineup includes Shotgun Jazz Band, Gal Holiday, Tom McDermott, and many others.
618 Frenchmen Street
Since this live music venue opened its doors in 2000, d.b.a. has hosted hundreds of live acts. The bar features a broad selection of beer and spirits, and the music plays nightly. Tin Men and John Boutte perform there regularly.
640 Frenchmen Street
The casual, live music venue at the end of Frenchmen offers an elevated Cajun/Creole menu, hand-crafted cocktails, a good wine list, and local draft beer plus live big-band music.
626 Frenchmen Street
Snug Harbor is a sit-down ticketed music venue that is home to local and touring heavyweights of traditional and modern jazz (such as a weekly show by Ellis Marsalis). For over 30 years, Snug Harbor has provided the best in live jazz and great regional cuisine. Snug Harbor is located in three rooms of a renovated 1800s storefront — a dining room, a bar, and a music room.
623 Frenchmen Street
It's raucous, it's loud, it's standing room only, and it's one of the best places to throw down in New Orleans. This casual, petite Frenchmen Street venue doles out traditional jazz, modern jazz, blues, and funk. If things get too hot and crowded, just step outside with your drink for a breather — chances are, you'll find a brass band playing on the street.
Remember, you can walk to all these venues from your hotel! Take advantage of the French Market Inn specials, group rates, and best-rate guarantee for greater savings to spend on New Orleans famous French Quarter cuisine and enjoying everything this magnificent city has to offer. Reserve your room today!