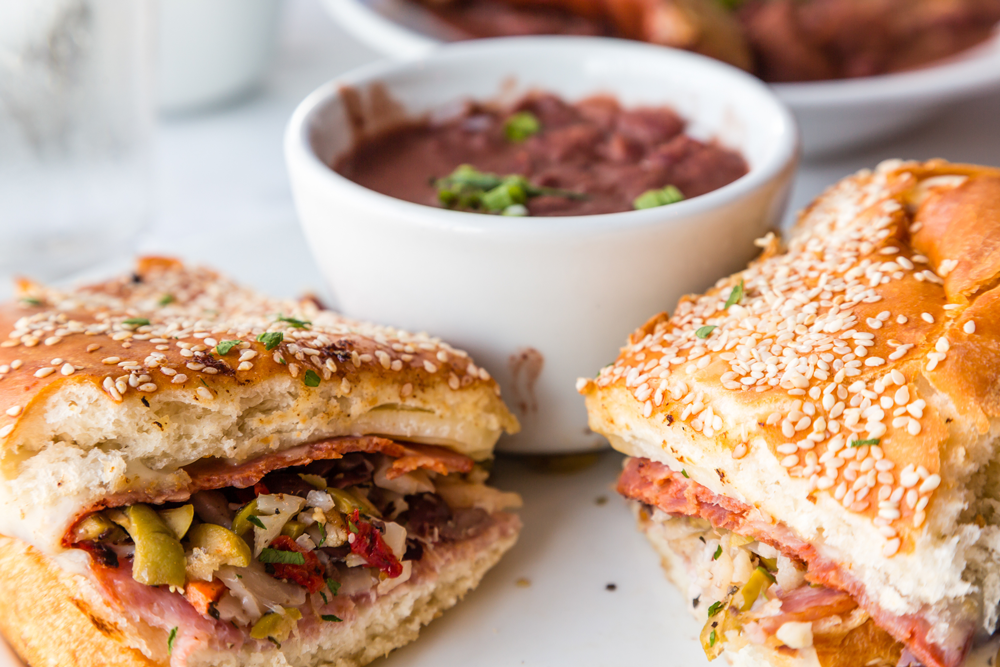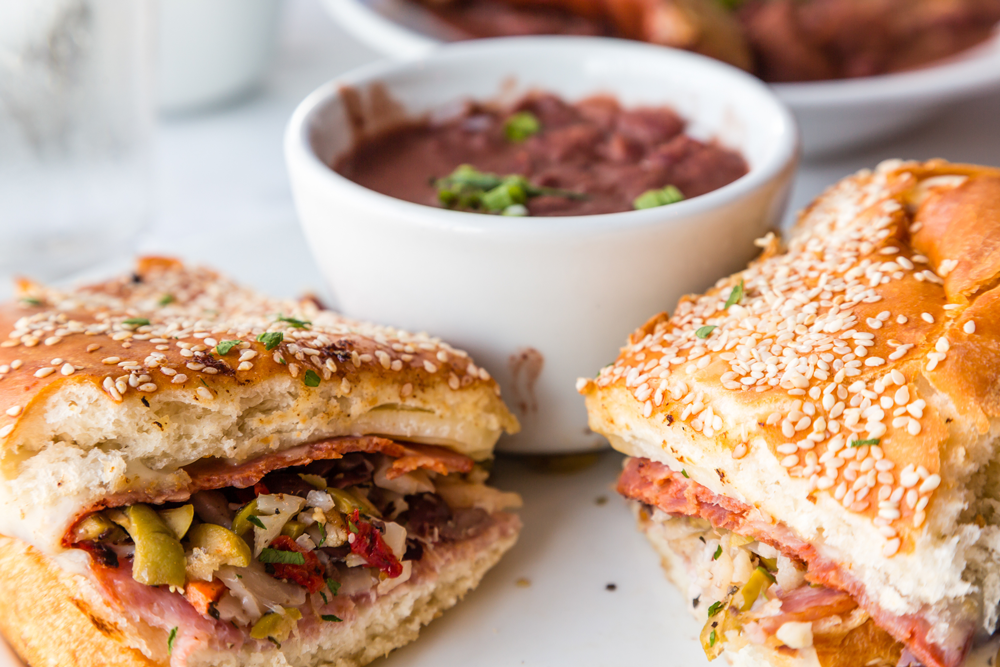 The French Quarter knows no meaning of last call, being open for business 24/7, and that means that a few restaurants are also open late. Here are a few of our favorite spots where you can eat after 9 p.m. in the French Quarter.
1001 Esplanade Ave.
Around since 1939, the iconic Buffa's is perched just outside of the French Quarter on Esplanade Avenue. It's beloved by locals, has live music in the back room seven days a week, and excellent burgers. You can also get your New Orleans staples on like red beans and rice and blackened Gulf fish. One of Buffa's signature dishes is bratwurst jambalaya — beer-soaked bratwurst added to a "super secret award-winning jambalaya recipe."
Open 11-4 a.m. Friday and Saturday; 11-2 a.m. Monday through Thursday.
800 Decatur St. (French Market)
This mainstay needs no introduction and will eagerly satisfy your cravings with delicious beignets and a cup of cafe au lait, around the clock.
Open 24 hours.
1113 Decatur St.
Cane & Table made a name for itself with its potent rum-based cocktails and eclectic, Caribbean-influenced small and large plates in the elegant space that evokes Old Havana. Park yourself in the gorgeous courtyard while you try some small plates or braised ribs. (The menu changes depending on the season.)
Last seating at 10 p.m. Wednesday – Sunday (closed on Monday and Tuesday).
900 Bourbon St.
The tile-and-chrome diner has been representing what's weird and wonderful about the Quarter since 1939. The no-frills food comes under the motto, "We love to fry, and it shows," but it's the scene you might want to come for, both inside and outside the diner.
Open 24 hours.
1109 Decatur St.
If you want a quick, inexpensive meal, with some local color thrown in, Coop's Place is unbeatable. Located on the always-busy stretch of Decatur Street, Coop's is both a divey bar and restaurant with a surprisingly extensive menu. One of the standouts is the seafood gumbo. It comes with Coop's own dark roux, okra, filé powder, shrimp, oysters, and crab claws. (You can ask for extra seafood.) Follow the gumbo with Coop's excellent rabbit and sausage jambalaya. Note: No one under 21 is allowed.
Open on Monday and Thursday from 11 a.m. to 10 p.m.; Friday – Sunday 11 a.m.-11 p.m.; closed on Tuesday and Wednesday.
1201 Burgundy St.
This cozy, dog-friendly neighborhood bar mixes up a huge mahogany bar, colorful locals, a pool table in the back room, darts, and seriously good bar food like boudin balls and pizza. There are also taco Tuesdays and crawfish when in season. Trust us, this one is a gem.
Open 4 p.m. – Monday through Thursday; 2 p.m. – 1 a.m. on Friday; 2 p.m. – 5 a.m. on Saturday, and 2 p.m. to midnight on Sunday.
833 Conti St.
Cuñada ("sister-in-law" in Spanish) is a tiny family-owned Mexican spot with tacos, carnitas, and other specialties plus agave-based margaritas, and a wide variety of Mexican beer.
Open till midnight seven days a week.
400 Dauphine St.
Déjà Vu serves up New Orleans staples like biscuits and gravy, po-boys, burgers, and seafood plates. Breakfast is served all day, too, plus there are poker machines, a jukebox, big-screen TVs, and plenty of people-watching.
Open 9 a.m. till 11:30 p.m. daily.
1036 N. Rampart St.
Effervescence opened its tall doors on N. Rampart St. in March of 2017 and has become the destination for high-to-low sparkling wines from all over the world, champagnes, small plates, and live music. The setting is modern and polished, and there's ample outdoor seating. There's also a full bar, and dozens of still wines by the glass and bottle. The small plates are meant to be shared — like the Gulf seafood plate or crispy Brussels sprouts (the menu changes, this is just an example). Effervescence is also a good spot to try caviar, from the prized osetra to the local (and more affordable) bowfin.
Open 4-10 p.m. on Friday and Saturday; 11 a.m. – 5 p.m. on Sunday.
811 Conti St.
Erin Rose is a low-key watering hole favored by the locals, located just a few doors away from Bourbon Street. Check the memorabilia galore and try the bar's excellent frozen Irish coffee or a Bloody Mary (made with the house secret recipe). Of course, there's Guinness on tap plus a selection of local brews. The bar is home to the popular Killer Poboys (look for the takeout window in the back). Everything on the small but mighty menu is delicious.
Open till 7 a.m. seven days a week.
225 Chartres St.
This stylish and popular brasserie is one of the latest additions to the French Quarter dining scene, opened by husband-and-wife team Justin and Mia Devillier. The high-end late-night menu changes, but typically includes French-centric delights like escargots and mussels, plus premium steak and pan-roasted fish.
Open 5-10:30 p.m. Friday and Saturday; till 9:30 p.m. Sunday through Thursday.
Quarter Master Deli
1100 Bourbon St.
This takeout/delivery 24-hour institution is also known as the Nellie Deli. Quartermaster's menu is full of burgers, overstuffed po-boys, house-made salads, and other New Orleans-style Southern fare like BBQ chicken and ribs. There are also hearty breakfast and late-night menus.
Open 24 hours.
308 N. Rampart St.
The late-night menu offers delicious cocktails like smoky paloma and caipirinha; the food menu offers elevated versions of things like burgers and chicken sandwiches.
Late-night menu is served on Friday and Saturday from 11 p.m. to 1 a.m.
830 Conti St.
Located in the elegant Prince Conti Hotel, the Bombay Club offers some of the most refined food you'll find in the French Quarter after 9 p.m., served among polished wood and high-end cocktails. Small bites include such classics as meat pies and gumbo plus European nods like ploughman's board. The sheer number of martinis on the menu alone will blow you away, and there's live music too.
Bar is open till midnight Wednesday through Sunday.
1201 Royal St.
If it's late at night and you "need" a po-boy, head on down to this tiny 24-hour takeout-only deli on Royal St. with a loyal following. There's plenty to love on the menu of this bastion of calories, but you can't go wrong with the epic specialty sandwiches like the vegetarian Green Giant and the mountainous All That Jazz — with grilled ham, turkey and shrimp, plus two kinds of cheese, grilled veggies, and the special "wow" sauce on grilled French bread. Free delivery to the French Quarter, the Marigny, and the CBD; cash only.
Open 24 hours.
Book a stay at our historic French Quarter boutique hotel, right in the epicenter of all of the action!