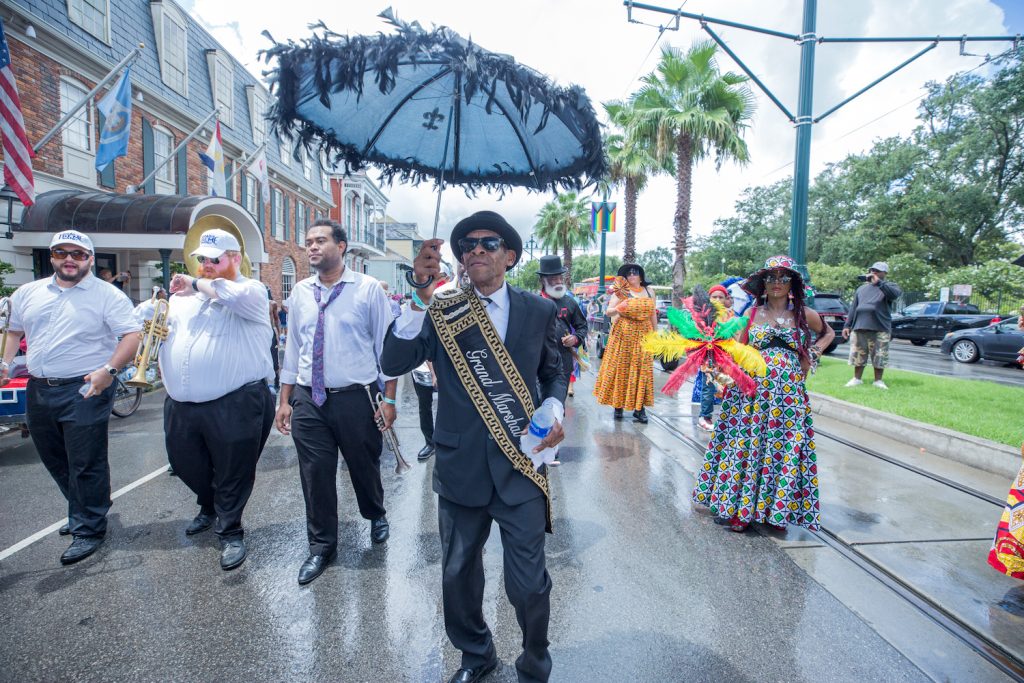 Don't let the long, hot Louisiana summer get you down — there's plenty to do in New Orleans in August. These happenings are a testament to our willingness to eat, drink, dance, mingle, strut, and even run — in the heat, humidity, and that inevitable afternoon rain. From brass bands to block parties to a parade to running in a fancy dress for a good cause, August got it going, spilling into the first week of September.
Satchmo SummerFest
What: A jazz-centric music festival/tribute to Louis Armstrong
When: Saturday-Sunday, August 5-6, 2023
Where: New Orleans Jazz Museum, 400 Esplanade Ave.
Admission: $7 wristband for daily admission for adults, available at the gate; free for children under 12
More information: http://fqfi.org/satchmo
The two-day Satchmo SummerFest, named so after one of Louis Armstrong's nicknames, started as a tribute in 2001, on Armstrong's 100th birthday. It has been traditionally held on the first week of August and marked by strong attendance.
Produced by the nonprofit French Quarter Festivals, Inc., and sponsored by Chevron, Satchmo SummerFest has music on its outdoor, tented stages on the U.S. Mint's grounds, plus dance lessons and demos on the dance floor located on the Mint's second floor.
Other events will include a Sunday morning Jazz Mass at the historic St. Augustine Church in Treme, seminars and film screenings, kid's activities, and a second-line parade. For schedule and updates please check the event's website.
Fidelity Bank Whitney White Linen Night
What: A block-party style art event, an open house for galleries
When: Saturday, August 5, 2023, 5-10 p.m.
Where: 300-600 blocks of Julia Street, Warehouse District
Admission: Free
More information: http://www.artsdistrictneworleans.com/events/fidelity-bank-white-linen-night
This popular art event is held on the first Saturday in August in the Warehouse District, centering around the galleries on Julia Street. The 300-500 blocks of Julia Street are closed off for a block party, with several stages for live music and dozens of food and drink stands. About 20 galleries on and around Julia St. will be open to the public.
Started in 1994 in an attempt to attract visitors to that revived area (now known as Arts District New Orleans), White Linen Night has been growing steadily, attracting more visitors and vendors every year. Help the White Linen Night live up to its name by wearing white, though this is decidedly optional, as there's no dress code.
Red Dress Run
What: An annual fundraiser race for local charities
When: Saturday, August 12, 2023, 9 a.m.
Where: Starts at Crescent Park, 1008 N. Peters St.
Admission: $65
More information: http://nolareddress.com/
Red Dress Run isn't exclusive to New Orleans, but local participants take it up a notch by costuming on top of wearing their best and/or most outlandish red dress, regardless of gender. This is an annual fundraiser run for local charities organized by hashing groups (adults-only, non-competitive social running clubs) all over the world. They call themselves "drinking clubs with a running problem" and the local group, New Orleans Hash House Harriers (NOH3), is no exception.
All proceeds from the run will go directly to local charities, according to NOH3. The New Orleans Red Dress Run is traditionally held on the second Saturday of August. It starts at Crescent Park, though the route will not be publicized until the day of the run. The run doesn't take off until 12:30 p.m., but the participants can start showing up as early as 9 a.m. for beer and live entertainment.
There are a few rules to be aware of if you plan to participate: Registration is required. A red dress is a must. And you must be 21 to participate because the alcohol will be flowing.
Dirty Linen Night
What: Art, food and music block party
When: Saturday, August 12, 2023, 6-9 p.m.
Where: 500-900 blocks of Royal Street, French Quarter
Admission: Free
More information: https://dirtylinen.org/
Dirty Linen Night, as you may have guessed, takes after another annual art event, White Linen Night. It follows the White Linen Night exactly one week after, on the second Saturday in August. It is similar in format, though looser in structure and spanning more territory.
The multi-block party takes over the 500-900 blocks of Royal Street and some cross streets and adjoining areas in the French Quarter, including Jackson Square and Dutch Alley. About 40 galleries are expected to participate this year, plus a number of shops and restaurants.
Although Dirty Linen Night does riff off White Linen Night, it wasn't created to compete with the Warehouse District event but to promote the many galleries and shops of Royal Street. It does have fun with it though. Dirty martinis and dirty rice cheekily make an appearance as the food and drink of choice served by some galleries and stores. The event organizers also encourage participants to "wear the dirty clothes they wore the previous week to White Linen Night — no laundry needed."
Southern Decadence
What: The annual festival celebrating LGBTQIA+ culture
When: Thursday, August 31, through Monday, September 4, 2023; times vary
Where: Various locations
Admission: Depends on the event, but most are free
More information: http://www.southerndecadence.net/
What started as a going-away party in the early 70s has evolved into an immensely popular annual event that attracts participants from all over the world. It's considered the fifth largest event in New Orleans after Mardi Gras, Jazz Fest, Essence Festival, and French Quarter Festival.
Indeed, Southern Decadence is massive. Just like every year, it has a different theme and most activities will be centered in and around the French Quarter, with lots of block parties and dance parties at bars and clubs on Bourbon Street.
The free show/block party at the corner of Bourbon and St. Ann streets is always a big hit, as are the two parades. Both parades will take place in the French Quarter. The Friday parade will roll at 7:30 p.m. with about 15 floats starting at Elysian Fields by Washington Park. The Southern Decadence Grand Marshal Parade on Sunday starts at 2 p.m. at Decatur and Barracks Streets. It's a walking parade.
A lot of events are free and open to the public. You can purchase a VIP Weekend Pass online for access to all events that do charge an entrance fee and may sell out.
New Orleans offers tons of fun festivals and events for people of all ages and interests, appealing to both locals and tourists alike. If you are visiting the Big Easy in August, be sure to book your stay at The French Market Inn, a charming historic hotel in the New Orleans French Quarter located close to all of the festivals and excitement.