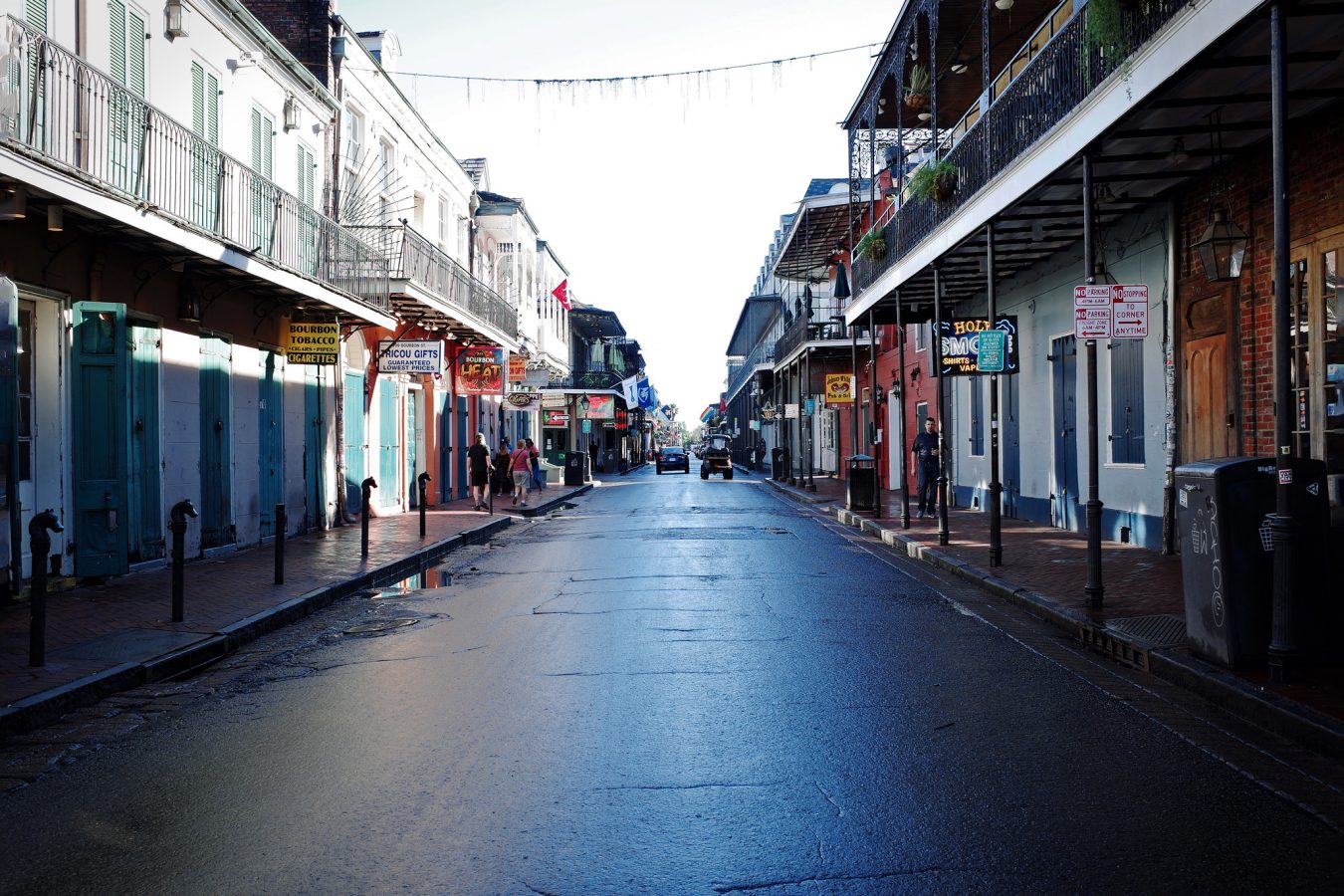 Frequent downpours are common throughout the long summer season in Louisiana. Some are thunderous daylong storms, and others are brief afternoon showers quickly replaced by sunny skies (so quickly, in fact, that it may leave you wondering if it had rained at all).
While you definitely don't want to be out when lightning strikes or the streets flood, summer showers are easy to wait out. And, rain or shine, the French Quarter will keep you fed and entertained. Our suggestions, below, will help you easily kill a few hours in the air-conditioned indoors. All you need is a sense of adventure, patience, and an umbrella (and maybe rain boots because you DO NOT want to step into those puddles in the French Quarter in flip-flops).
1. Visit a museum
The Historic New Orleans Collection (THNOC) is spread over 10 historic buildings in the French Quarter. Though you may not want to tour the buildings in the rain, the Royal Street location (533 Royal St.) houses the main museum with a permanent exhibit on state history, plus rotating exhibits on history and art. Free admission.
The New Orleans Pharmacy Museum is a bargain at $10 and features a permanent collection of 19th-century surgical instruments, books, patent medicines, and locally excavated bottles. The museum occupies a two-story historic building, the site of the apothecary shop of Louis Joseph Dufilho, Jr., who was America's first licensed pharmacist. The museum's second floor features a sick room and physician's study, and there's a small yet lovely courtyard.
Consider heading to Jackson Square for two museums and a historic cathedral. Catch a mass or free concert (or just admire the interior during the quiet hours) at the St. Louis Cathedral. It's flanked by The Cabildo and The Presbytère, which are run by the Louisiana State Museum and house a number of excellent exhibits ($10 admission to The Cabildo; $7 to The Presbytère). You'll find many precious pieces of Louisiana history at the Cabildo, like a rare Napoleon death mask and a painting of Marie Laveau by Frank Schneider.
There are two excellent permanent exhibits at the Presbytere. You could get lost for hours in the "Mardi Gras: It's Carnival Time in Louisiana" exhibit which details the history of Carnival traditions in Louisiana, including Cajun Courir de Mardi Gras, Zulu coconut throws, Rex floats, and spectacular costumes throughout the centuries. The "Living with Hurricanes: Katrina and Beyond" exhibit documents the natural disaster and ongoing recovery.
2. Head to the mall
The Outlet Collection at Riverwalk and The Shops at Canal Place are a short walk away from each other. Both are self-contained, multi-storied indoor malls that could keep you shopping and eating for as long as your stamina holds up. The Riverwalk mall is an outlet with more than 75 retailers and restaurants, including Nordstrom Rack and Cafe du Monde. The Shops at Canal Place is home to Saks Fifth Avenue, Tiffany and Co., Anthropologie, and dozens of other upscale retailers. There's a small food court upstairs.
3. See a movie
Prytania Theatres at Canal Place is located inside The Shops at Canal Place mall. It's the second location of The Prytania Theatre, which is over 100 years old and is the longest continually operated theater in the South.
Not far away is the state-of-the-art IMAX theater, located next to the Audubon Aquarium of the Americas at the riverfront. It usually has two or three nature-themed 3D films on rotation.
Speaking of the Aquarium, the sprawling compound on the riverfront will keep you and your family enthralled with its walk-through tunnel, otters, penguins, sea turtles, a stingray touch pool, and an expansive replica of an offshore oil rig submerged in 400,000 gallons of water. (Please note that it's currently closed but will reopen in the summer of 2023 after the relocation of the Audubon Butterfly Garden and Insectarium. Both will be eventually merged at the Aquarium's location.) Packed with bug-centric interactive exhibits and featuring a spectacular butterfly garden, the Insectarium will be definitely worth a visit.
4. Take in a show
With the reopened Saenger and Joy theaters, Canal Street shines once again as a performing arts destination. See a Broadway show at the palatial Saenger, built in 1927 and restored in 2013 after staying vacant post-Katrina. Or catch a live music show or a national standup comedy act at the Joy Theater. This 1946 landmark started off as a movie theater and was gorgeously restored to its art deco glory.
Just off Jackson Square, Le Petit Theatre du Vieux Carre has called its St. Peter Street location home since 1922. Check out what's playing this season at the famed playhouse during your visit.
5. Eat and drink!
There's nothing more delicious than holing up with a cocktail and snack on a rainy day, and there's obviously no shortage of options in the French Quarter. Some of the best bars and restaurants in the city offer great happy hour deals you won't want to miss. Vacherie's happy hour (3-6 p.m.) $8 bar menu has slider-of-the-day specials and draft beer flights. The Bombay Club inside Prince Conti Hotel specializes in martinis and has more than 50 specialty cocktails on the menu. The daily happy hour (4-7 p.m.) features $3 beer and $4 wine, $5 cocktails, and small plates like gumbo and meat pies.
Visiting New Orleans soon? Take advantage of the French Market Inn specials, group rates, and best-rate guarantee for greater savings to spend on New Orleans famous French Quarter cuisine and enjoying everything this magnificent city has to offer. Reserve your room today!