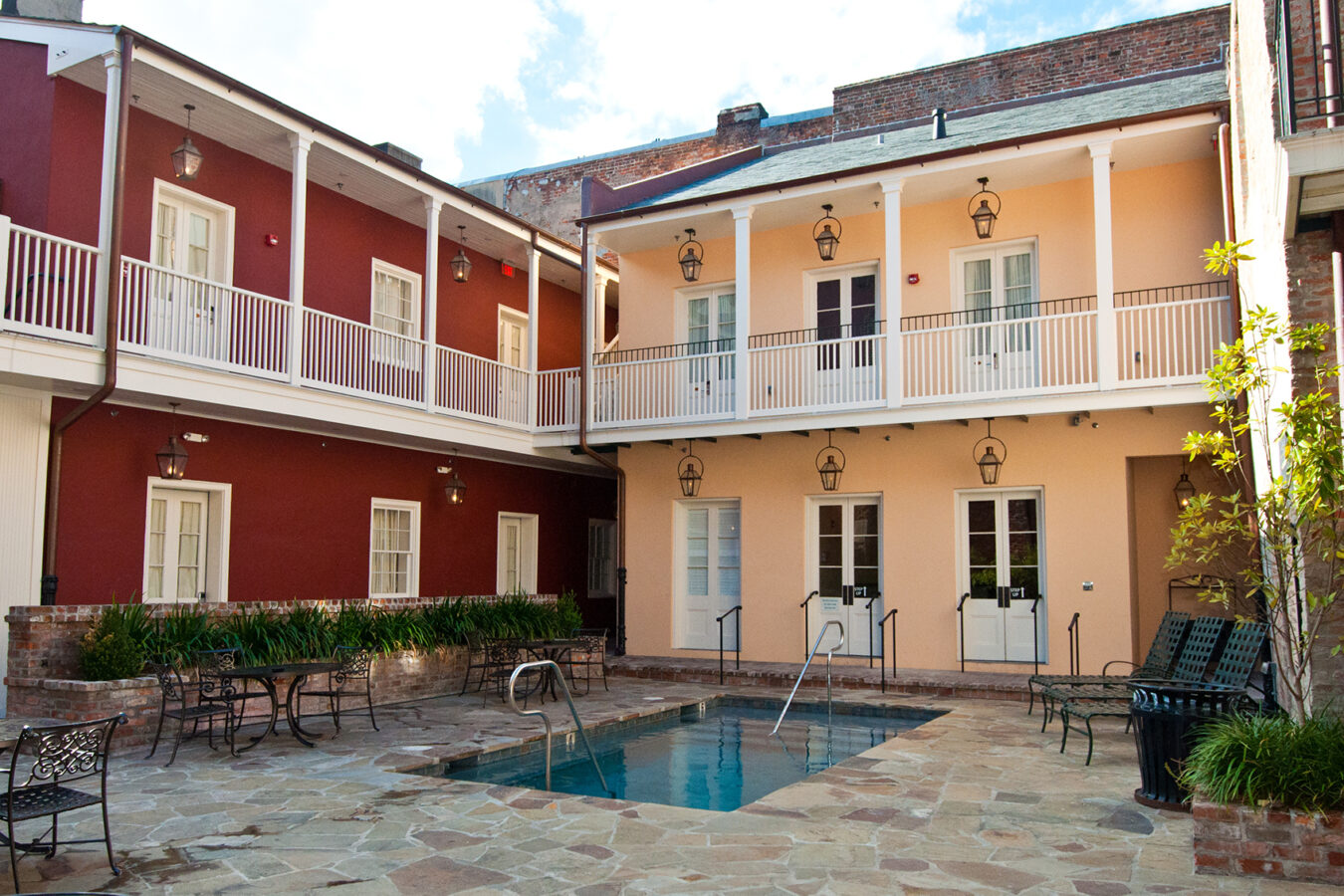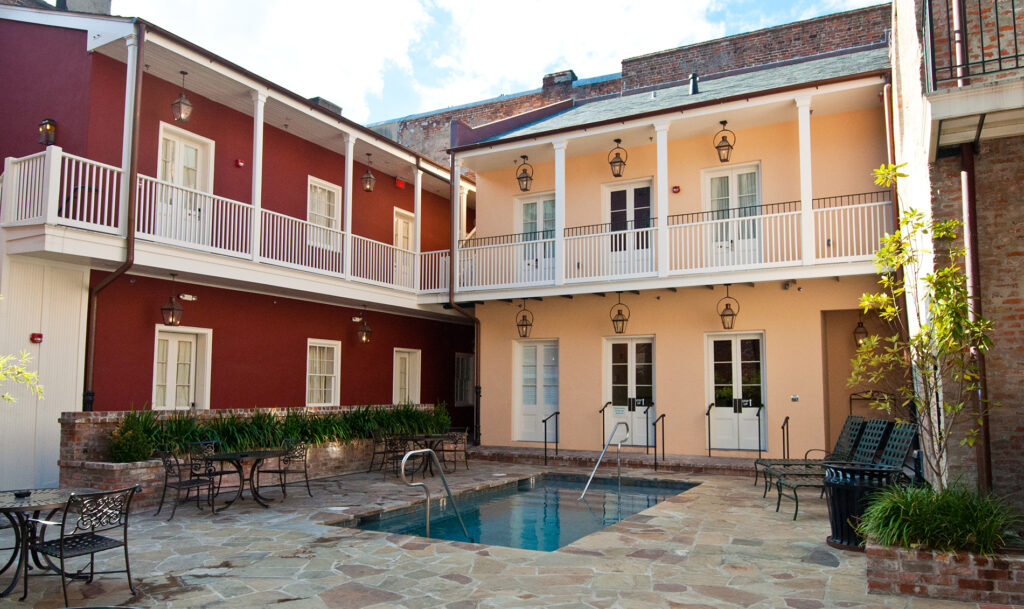 The French Quarter is the crown jewel of New Orleans, steeped in history and bursting with attractions that draw hordes of visitors year-round. Finding the perfect place to stay is the first step of your journey, and the French Market Inn has everything you need to make your vacation truly memorable.
1. An Affordable Oasis in the Bustling Heart of the Quarter
French Market Inn offers a unique New Orleans feel that is both beautiful and authentic. Originally an 18th-century French Creole bakery, French Market Inn has a timeless ambiance that provides a lovely oasis from all the round-the-clock attractions just outside your door.
We're also one of the Quarter's best bargains. With special offers, weekday rates, and seasonal savings, you can always snag one of our lovely guest rooms for a great price.
Beautifully-appointed balcony rooms with street views overlooking the French Quarter are perfect for romantic getaways, while more petite guest rooms are just right for brief business trips. We also offer terrific group rates for large parties that occupy 10 or more guest rooms.
Planning a New Orleans destination wedding? French Market Inn rolls out the red carpet for guests who want to host their wedding party in a unique French Quarter hotel with a charming swimming pool in our central courtyard. We also offer valet parking, complimentary Wi-Fi, and a 24-hour concierge service that ensures you won't miss a thing when you're staying at French Market Inn!
2. Location, Location, Location
When you visit New Orleans, you don't want to make a long trek to all the fabulous places you've read about. At French Market Inn, located on the historic waterfront strip of Decatur Street, most of the Quarter's top attractions are just minutes away by foot.
In nearby Jackson Square, a bustling hub of New Orleans street artists and colorfully-garbed fortune-tellers ply their trades in front of the stately St. Louis Cathedral. Woldenberg Park, the site of many free festivals, is just across the way on the banks of the Mississippi. And you can easily stroll down Decatur to the famous Cafe du Monde and dip sugar-dusted beignets into chicory-laced coffee before browsing the colorful wares at the French Market.
Also close at hand: the adult playgrounds of Bourbon Street and Harrah's Casino New Orleans, along with family-friendly attractions like the Audubon Aquarium of the Americas.
If walking around the Quarter isn't quite your speed, you can opt for a pedicab, which is a fun way to navigate through the streets, or take a romantic mule-driven carriage ride. In a hurry? Taxis abound, and an Uber or Lyft is as close as the app on your phone.
3. You're Surrounded by Live Music
New Orleans dances to the beat of live music all over town. But here in the Quarter, the music practically oozes out of the streets, from the crowd-pleasing cover bands on Bourbon Street to the solo sax player crooning on the corner.
Just steps from French Market Inn, you'll find something for every musical taste and mood, whether you're looking to rock out hard, dial it down for a romantic evening, or soak up New Orleans' storied Dixieland musical past.
House of Blues presents great rock and blues acts touring acts and lets the good times roll New Orleans style, while The Bombay Club showcases some of the best jazz in town if not the country. And you don't have to be Irish to enjoy hoisting a Guinness while enjoying the folksy live music at Kerry Irish Pub.
Looking for some razzle-dazzle? One Eyed Jack's hosts everything from top touring bands to flashy burlesque shows, while the Fillmore New Orleans, inside Harrah's Casino, presents national headliners.
For traditional New Orleans jazz, stroll down to Palm Court Jazz Cafe on the other end of Decatur, where some of the city's greatest musical legends take the stage several nights a week. Then cross Esplanade to the live-music mecca of Frenchmen Street, which is lined with clubs and restaurants where the music starts early and continues through the wee hours.
4. Front Row Seat for French Quarter Fest
While you'll find great music in the Quarter on any given day, you'll be at the epicenter of the city's live music universe in mid-April, when the French Quarter Festival rolls around, if you're staying at French Market Inn.
The largest free musical event in the South, French Quarter Fest takes over the entire Quarter with over 20 stages of live music and has become the city's biggest magnet for out-of-town visitors. A four-day celebration of music, culture and food, it features hundreds of musical acts in genres including traditional and contemporary jazz, rhythm and blues, Cajun and zydeco, New Orleans funk, classical, swing, rock, and international sounds from all over the globe.
Many of the Fest's biggest acts play right across from French Market Inn at Woldenberg Park, and other smaller stages are a just stone's throw away. Dozens of different food stalls help Fest-goers eat their way from one end of the Quarter to the other, feasting on spicy Creole and Cajun dishes before they burn up all those calories dancing to hot local bands.
The best part? When you need a break from all that action, you can pop over for a swim at French Market Inn, emerge refreshed, and hit the streets once again to let the good times roll!
5. Brimming With Festivals All Year Round
Spring is peak festival season in New Orleans. Right on the heels of Quarter Fest comes the New Orleans Jazz & Heritage Festival, the city's other marquee music event, followed by Bayou Boogaloo, held along the picturesque banks of Bayou St. John.
But festivals are going on all year round, many of which are within walking distance or a just short cab or bike ride away from French Market Inn.
The Quarter rolls into summer with the French Market's two-day Creole Tomato Festival, and the Louisiana Cajun-Zydeco Festival, all free and within easy walking distance. Ditto the spectacular dueling-barges fireworks display over the Mississippi River that marks Independence Day in New Orleans with Go 4th on the River and ESSENCE Fest.
July also brings Tales of the Cocktail, a lively six-day festival packed with tastings, seminars, and special events that includes spirited pub crawls; and the Running of the Bulls, where the Big Easy Rollergirls don horns and chase their human quarry through the Quarter while wielding plastic bats. (For more summertime fun, see "Great Place for a Summer Getaway," reason #6).
Other Quarter-based festivals throughout the year include the Tennessee Williams Literary Festival, where March goes out like a lion with the raucous Stella & Stanley Shouting Contest. Krewe of Boo marks Halloween in the Quarter with a spooky kid-friendly float parade. And come Christmas, the Quarter decks itself for the holidays with caroling in Jackson Square, Reveillon dinners, and the famous fleur-de-lis drop near Jax Brewery on New Year's Eve.
Then, boom, it's Carnival time! Mardi Gras season kicks off every year on January 6 with three Twelfth Night parades, including a lovely Krewe de Jeanne d'Arc procession on horseback and foot that winds its way through the Quarter.
And that's just for openers. Whatever time of year you visit, there's always something happening right outside the doors of the French Market Inn.
6. Great Place for a Summer Getaway
Summer used to be the sleepy season in New Orleans. Not anymore. The Quarter becomes a lively hive of activity in the dog days of summer when the temperatures go up and the rates go down at French Market Inn. And the best month of all to score great deals is August.
August kicks off its first weekend with two simultaneous festivals. Music lovers make a beeline for Satchmo SummerFest, held at the New Orleans Jazz Museum at the Old U.S. Mint, which celebrates the music and legend of Louis Armstrong, while see-and-be-scene art mavens don their best summer whites and throng to the Julia Street galleries on White Linen Night.
On the second Saturday of August, guys and gals alike hit the streets in their prettiest ruby frocks for the Red Dress Run, where they act silly and get giddy for good causes. Then they regroup for free libations at the Royal Street galleries during Dirty Linen Night, White Linen's cheeky cousin.
Throughout August, foodies can graze on gourmet cuisine at the city's top restaurants during COOLinary New Orleans. The prix fixe multiple-course dinner, brunch and lunch menus are very reasonable.
Come Labor Day weekend, it's all hands on deck for the 24/7 Southern Decadence when anything and everything goes. This massive four-day festival celebrates LGBTQIA+ culture and attracts participants from all over the world. Most activities are centered in and around the Quarter and include two parades with fabulous costumes, many of them quite scanty.
7. Dreamy Romantic Getaway for Couples
New Orleans is one of the most romantic cities in the world. And you've got a head start on a dreamy vacation if you're staying at French Market Inn, where brocade curtains frame the windows of charming rooms decorated in classic Quarter style.
While it may be tempting to ensconce yourselves amid the cushions on your comfy bed, a whole world of romance beckons from the streets just outside your door. The best part? You still have that lovely room to come back to when you're ready to call it a night.
You know what they say about oysters, right? Jumpstart your romantic evening with a dozen or two freshly shucked oysters at the Bourbon House, just a short walk from the hotel, then stroll over to a candlelit dinner at Antoine's or Arnaud's. Both old-school Creole restaurants are housed in historic buildings in the heart of the Quarter and serve classic French dishes like Chateaubriand. More in the mood for nouveau cuisine? Head for Bayona, chef Susan Spicer's flagship restaurant, which serves beautifully plated dishes in a lovely atmospheric setting.
After dinner, keep the magic going with a carriage ride through the Quarter. Book a ride in one of the many mule-drawn carriages parked in front of Jackson Square; they're steered by savvy local drivers who can help you find the perfect romantic backdrop if you're looking to pop the question or renew your vows.
Cap off your fairy tale date in one of the swanky curtained private booths at The Bombay Club, where you can sip Bombay's signature martinis or other classic cocktails while listening to the cool jazz stylings of some of the city's top artists. Then end your night on a high note in your lovely French Market Inn room, and pop that champagne you have chilling on ice.
8. Plenty of Family-Friendly Fun
New Orleans has its share of adult attractions, but it's also one of the kid-friendliest cities in the country. You'll find a wealth of G-rated fun in and around the Quarter near the French Market Inn.
Get to know the neighborhood with a teacher-led French Quarter Kids Tour. Younger kids can go ghost-hunting on the popular Spooky Tour, where mischievous spirits come out to play, while their bolder older siblings can take a chilling Twilight Tour or learn about old New Orleans on the Creole Kids Living History Tour. Families can also book customized private tours.
For a crash course in New Orleans jazz, take the whole family to one of the early shows at Preservation Hall, where master New Orleans musicians raise the roof for an all-ages audience. Come early to grab a good seat on the benches (though many kids prefer the floor). And be sure to feed your brood first; there's no food or beverage service.
Jackson Square, just a hop, skip and a jump from French Market Inn, offers a passing parade of only-in-New-Orleans colorful characters. Directly across from the square, steps leading up to the Mississippi Riverwalk serve as an ad hoc stage for clowns, jugglers, acrobats, and other crowd-pleasing artists, whose free antics are sure to delight the kids for hours.
For a more structured family outing, visit the Audubon Butterfly Garden and Insectarium, where kids can bug out with creepy crawlies, walk through a flutter of iridescent wings in the enchanting butterfly garden, get to know the locals at Boudreaux's bait shop, and crunch down on some tasty bugs in the cafeteria.
That's a full afternoon's entertainment, so save the Audubon Aquarium of the Americas for another day. There, kids can watch penguins and sea otters at play, get up close and personal with magical jellyfish, and even reach out and touch a stingray (yikes!).
Between the free street performers and the fabulous ticketed entertainment, neither you nor the kids will ever be bored during your French Market Inn stay.
9. Near Iconic and Trendy Bars & Restaurants
The French Quarter is home to some of the best restaurants in the country, if not the world, beginning with the Creole grand dames: Arnaud's, Antoine's, and Galatoire's. You'll also find casual eateries like the no-frills Coop's Place, just down the street on Decatur, which offers excellent versions of local favorites like seafood gumbo and shrimp remoulade at affordable prices.
Like the city itself, Quarter restaurants continue to evolve, and Susan Spicer's Bayona was just the first in a series of hotspots experimenting with the less classical fare. Some standouts include the aptly-named Jewel of the South.
Many of the world's classic cocktails were invented in New Orleans. Napoleon House, just up the block from French Market Inn, first whipped up the Pimm's Cup, a gin-based aperitif, in the 1940s. Like most iconic New Orleans drinks, it's also widely available at other Quarter bars, and the best time to sample local spirits is at happy hour.
Home of the award-winning French 75, Arnaud's French 75 serves discounted signature cocktails on Friday afternoon, paired with light bar fare like shrimp egg rolls. And Kingfish keeps it classic during daily happy hours when it offers iconic cocktails like the Sazerac, Vieux Carre, and Mint Julep with heartier bar food like gumbo.
Throughout your stay, you can eat and drink your way around the Quarter if you take judicious breaks at PJ's Coffee, French Market Inn's on-site caffeine purveyor. Grab a go-cup of joe and relax poolside to refresh yourself for the next round of indulgence.
10. Near Shopping Meccas Big & Small
When it comes to nearby shopping options, French Market Inn guests hit the jackpot. There are three major malls a stone's throw away, and you don't have to venture far to explore cool boutiques and souvenir shops full of New Orleans mementos.
The renovated Jax Brewery, a multi-story historic landmark packed with stores and restaurants, is only a block from French Market Inn. Across the street, you'll find H&M, Urban Outfitters, Vans, and Sephora, all right next to one another. Hunting for discounts on major brands? Hit the Riverwalk outlet mall, which boasts the Mississippi River as its front yard.
Looking to live large? Walk down Canal toward the river to the Shops at Canal Place. The city's premier retail emporium is home to luxury labels like Louis Vuitton, Tiffany & Co., Tory Burch, and Lulu Lemon as well as famed local jeweler Mignon Faget and exquisite artisanal handcrafts from the Louisiana Craft Guild.
Pick up unique, affordably priced local art and souvenirs at the French Market, or SecondLine Arts & Antiques on the Esplanade end of Decatur. For glam vintage-inspired clothing, shoes and accessories, hit Trashy Diva and Dollz & Dames.
Whatever your taste or price range, you'll find something you covet near French Market Inn. Ready, set, shop!
Best Rate Guarantee
The French Market Inn, a historic New Orleans hotel, invites you to take advantage of super-discounted weekday rates. Receive even deeper discounts when you prepay in advance. If you find lower rates on your French Market Inn Hotel room(s) at the time of booking, we will match the rate.
We also invite you to take advantage of exclusive seasonal savings on our rooms. Check your available dates and book a true New Orleans experience online, or speak with one of our friendly reservation agents at (888) 626-2725. We'd love to have you, and we hope you have a great visit!