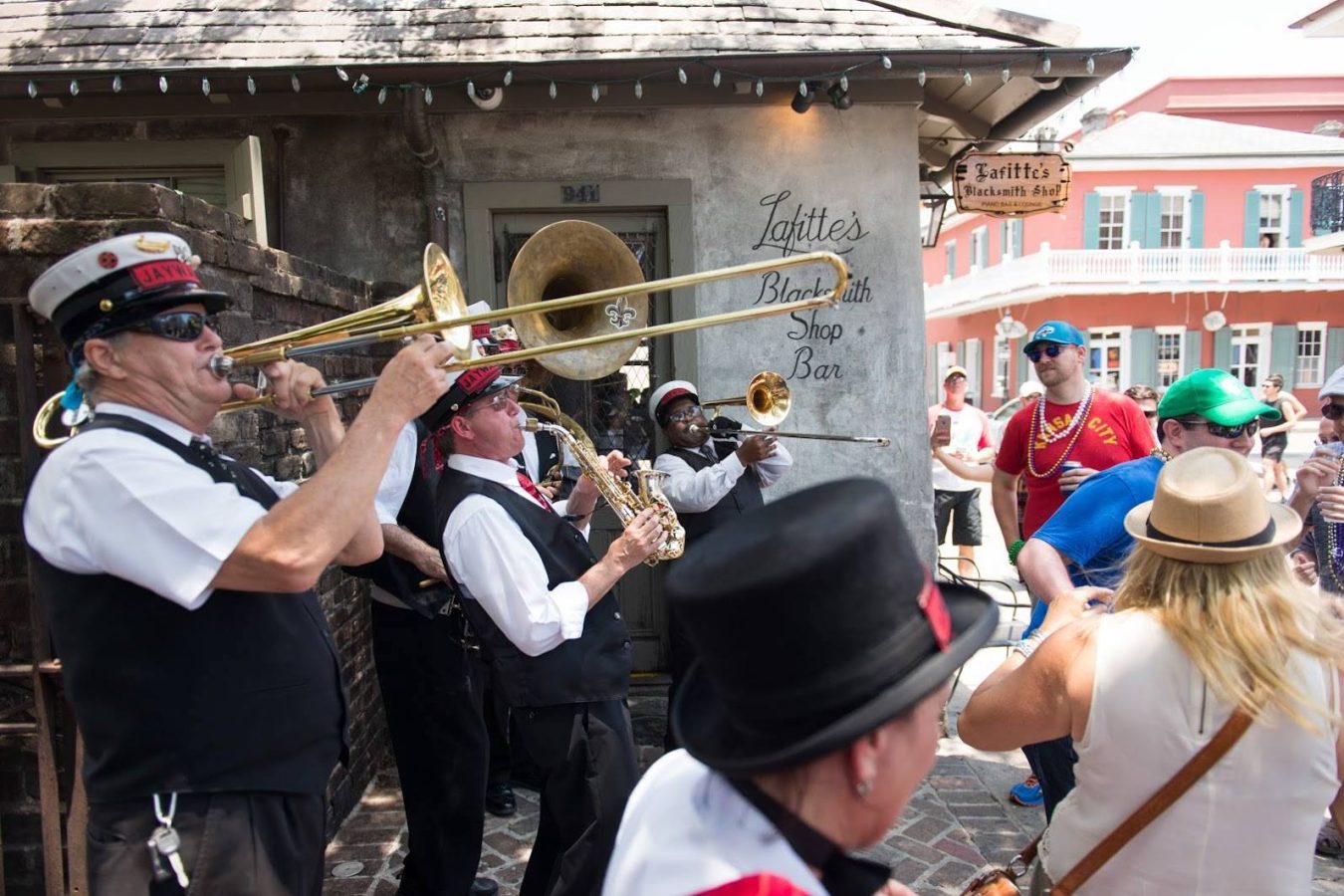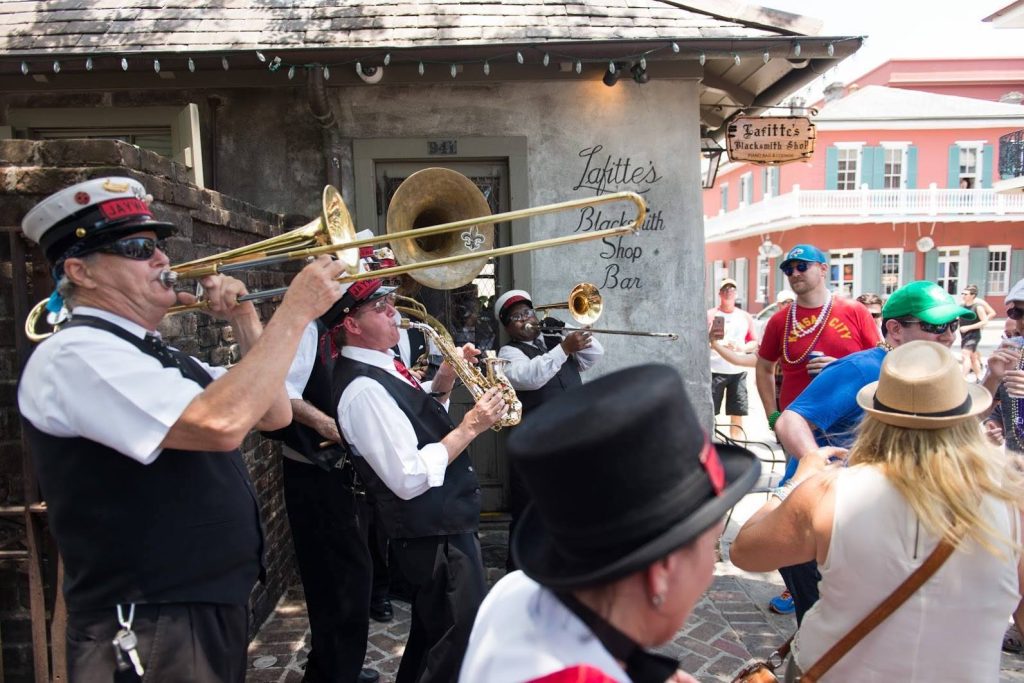 The French Market Inn is located on the bustling Decatur Street, in the center of the French Quarter of New Orleans and within six blocks of renowned New Orleans attractions like Jackson Square, the French Market, Aquarium of the Americas, Bourbon Street, and Harrah's New Orleans Casino.
Not sure which room to choose? Or what to do around the hotel? Read on!
Choosing the perfect room at the French Market Inn
The historic French Market Inn is renowned for its meandering garden and stone-paved courtyard. Its antique brick facade opens onto a lobby adorned with period paintings, chandeliers, and columns. There are seven room types, with either a king or a queen bed, and we also have rooms with two queen beds.
The one-bedroom rooms are ideal for solo travelers, couples, or besties who don't mind sharing a bed. The rooms with two queen beds are well suited for families, friend trips, girl trips, and any small groups that are OK with sharing a room.
Minimalists will love the petite room, it's well-appointed and offers great value. If you treasure your privacy and are sensitive to noise, the windowless interior room also offers great value and all the peace and quiet you need.
Our beautiful deluxe room offers a little more space than the petite room, and a street or courtyard view (great for people-watching!). The balcony room features a balcony that faces the busy Decatur Street and is perfect for people who want the full French Quarter experience.
Getting around
The French Market Inn places you within walking distance of numerous New Orleans attractions, restaurants, art galleries, museums, and more. You will be able to browse through famous New Orleans art galleries and antique shops, grab a delicious beignet at Cafe Du Monde, and shop at the Riverwalk Mall and French Market in just minutes when you stay at the French Market Inn.
So what's on Decatur Street? The 14 blocks of the French Quarter part of Decatur Street is a waterfront strip that in the past has hosted the kinds of businesses a port would have, becoming a bohemian haven with a vibrant goth and punk scene in the 80s.
Some places, like Cafe du Monde, Central Grocery and Tujague's remained to this day; others are long gone. Today, the street is as vibrant as ever even though the punk clubs and dive bars had been replaced by restaurants that cater to tourists, and bars and clubs that have more traditional jazz bands.
You will also find a lot of zydeco-blasting souvenir shops lining the street, a few funky bars, and lots of shopping (from national chains like Sephora to unique local artist co-ops and vintage stores).
If walking around the French Quarter isn't quite your speed, you can opt for a pedicab, which is an easy way to navigate through the French Quarter and surrounding areas. If it's a nice day out, why not do some sightseeing and burn off all that delicious Creole food at the same time? From bike tours to paddlesports, there are many ways to explore New Orleans while you stay active.
Other transportation options include streetcars, buses, cabs, Uber and Lyft, and even a ferry that goes to Algiers on the West Bank. One of the most versatile and easy options for visitors to the city is the City Sightseeing New Orleans Hop-On, Hop-Off double-decker bus tour. It's a nice way to travel from the French Quarter to the Garden District and Magazine Street shopping district, and the price includes two- or three-tour packages. The buses come to each stop every 30 minutes, allowing you to travel and sightsee throughout New Orleans at your own pace.
Where to eat
Starting earlier in the day, from the iconic Creole grand dames to contemporary wonders helmed by award-winning chefs, you can easily find tasty renditions of the New Orleans and southern staples on many local brunch menus.
Got a New Orleans food bucket list? Gumbo, jambalaya, po-boys, crawfish étouffée — all sorts of deliciousness await within walking distance from the hotel — including excellent, fresh local seafood.
Whether you prefer to be guided through a narrated tour by a savvy local or explore on your own, there are some very interesting culinary and cocktail tours available in the French Quarter and nearby, plus cooking demos and classes if you want to take it to another level.
Is there a better place to indulge your sweet tooth than New Orleans? We think not. With its French and Spanish roots, and its rich Creole and Cajun cuisines, the Crescent City is not a place to count calories. From Doberge cake to Bananas Foster there is an abundance of confections that will satisfy even the most discerning dessert lover. Learn more about our top picks for the best spots to get dessert in the Quarter, from the iconic beignets to southern staples like pralines and bread pudding.
The French Quarter knows no meaning of the last call, being open for business 24/7, and that includes quite a few restaurants. So when the late-night cravings hit, you have plenty of choices within walking distance from the French Market Inn, from the wallet-friendly takeout-only Verti Marte to the chic Justine. (Read here about a few of our favorite spots where you can eat after 9 p.m. in the French Quarter.)
What to do
The world is your oyster when it comes to exploring the many attractions of the French Quarter. Being over 300 years old, the Quarter is packed with historic buildings and museums. Just walking around gawking at the many architectural gems (The wrought iron! The balconies and courtyards!) can take hours.
Whether you're here on a girls trip, business trip, a romantic couple's adventure, a family visit with the kids in tow, on the budget, or only a short visit, there's lots to do and explore on any given day, 24/7. Theater, live music, excitement for all ages on the magnificent Mississippi River — it's all within walking distance from the hotel.
Where to shop
You're in luck when it comes to shopping options near French Market Inn, as there are three malls nearby, and the area is packed with boutiques (try Chartres St. near Canal) and souvenir shops (head down Decatur toward Esplanade when you leave the hotel). For unique, well-priced local art and souvenirs, try the French Market. The French Market's Shops at the Colonnade is a strip of shops also worth a visit if you're shopping for souvenirs or local specialties.
Also, why not stock up on edible souvenirs before you head home? You can buy pralines, hot sauces, Zapp's special edition chips, beignet mix, chicory coffee, and many more of your favorites near the hotel.
The best time of the year to visit
So, when should you visit? It really depends on your stamina and tolerance for the heat, because we've got something going on all year round. In New Orleans, we honor just about every local food there is (and some drinks) with a festival, not to mention the packed party schedule that never lets up, from the Carnival to Super Sunday to the Saints football season.
In other words, the Crescent City's dance card is pretty much always full, even when the heat and humidity descend on the city in late spring and till mid-fall. Come fall, the city ramps it up with Halloween and a calendar full of foodie-haven and music festivals. There's a festival, sometimes two, going on every weekend!
No matter when you visit and with whom, take advantage of the French Market Inn specials, group rates, and best-rate guarantee for greater savings to spend on New Orleans famous French Quarter cuisine and enjoying everything this magnificent city has to offer. Reserve your room today!