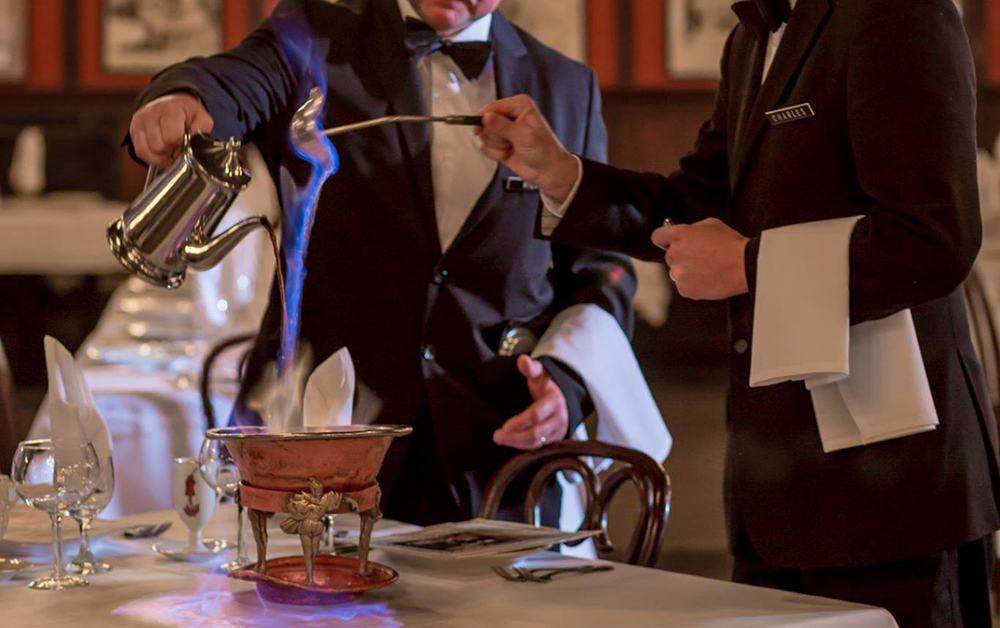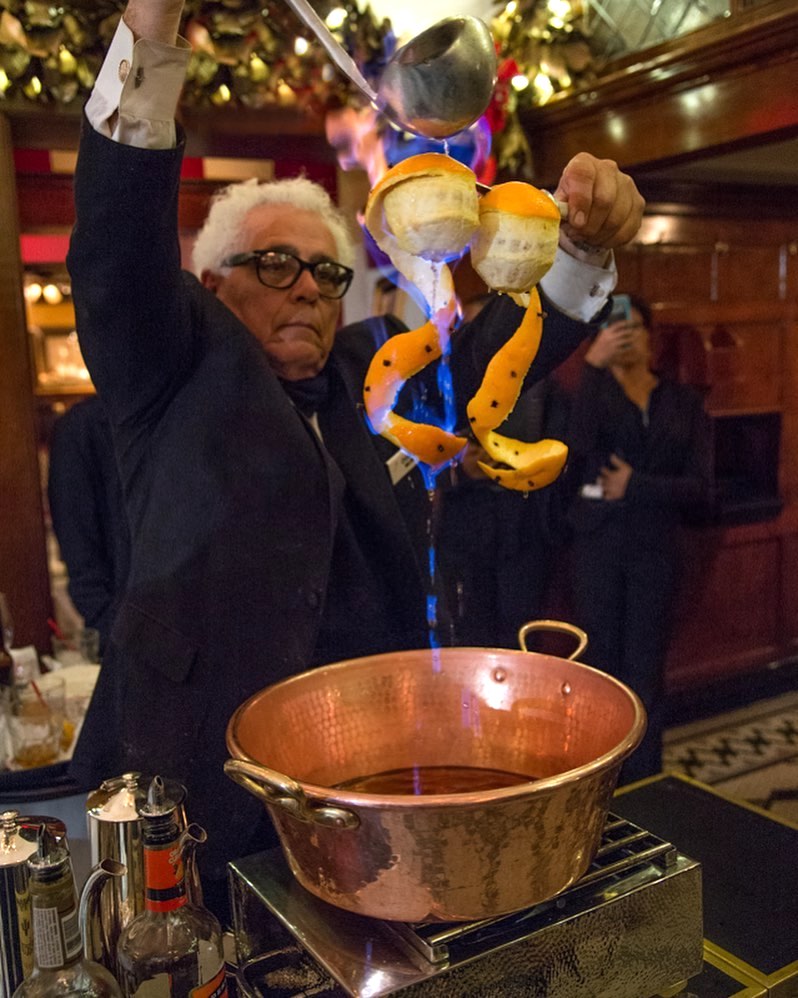 From the eye-openers like milk punch to the decadent absinthe frappe, many of the cocktails you came to know and love (or can't wait to taste while visiting) were either invented or perfected here. The rich and distinctive cocktail culture of New Orleans is full of history, lore and speculation, perfectly complementing the delicious melting pot of our cuisine. Here's to the unique concoctions you can find in New Orleans, and the best places in the French Quarter to try them.
Absinthe Frappe
What's in it: Absinthe, sugar, mint, and soda over crushed ice.
Where to try it: The Old Absinthe House, which invented this drink in 1874.
This deceivingly refreshing mint-green concoction packs a punch, and there's no better place to chase the green fairy than at its historic birthplace, the Old Absinthe House, which has seen the likes of Mark Twain and Oscar Wilde among its patrons.
Cafe Brûlot
What's in it: Brandy, Curaçao, Grand Marnier or Cointreau, hot, strong black coffee, sugar cubes, orange peel, lemon peel, cinnamon (sticks), cloves.
Where to try it: Antoine's (where it was supposedly invented), Arnaud's, Galatoire's.
This signature after-dinner drink is way more than just coffee — a lot goes into the presentation, which includes setting brandy and Curaçao on fire and ladling the flaming liquid over a spiral of orange peel. In a nutshell, Café Brûlot involves "burnt brandy," and it is said to have been invented at Antoine's in the 1880s and originally made tableside in an ornate copper bowl.
French 75
What's in it: Champagne, lemon juice, gin, simple syrup.
Where to try it: Arnaud's French 75.
Invented during World War I by a New York bartender, this cocktail has become a mainstay across New Orleans barrooms. The version at its namesake bar, attached to the iconic Creole grand dame of restaurants, Arnaud's, is made with Courvoisier VS, sugar, lemon juice, and Moët & Chandon.
Frozen Irish Coffee
What's in it: Strong black coffee, cooled; sweetened cream, Irish Whiskey, chocolate.
Where to try it: Molly's at the Market, Erin Rose.
Frozen Irish coffee was not invented in New Orleans, but it's on many menus of the French Quarter bars. Molly's at the Market and Erin Rose both have become known for their Irish coffee.
Grasshopper
What's in it: Crème de menthe, crème de cacao, heavy cream.
Where to try it: Tujague's.
The Grasshopper Cocktail is a sweet, mint-flavored after-dinner drink that derives its name from the green color lent by crème de menthe. It was created by Philibert Guichet, the former proprietor of Tujague's Restaurant in the French Quarter. He created the cocktail for a drink competition in New York City in 1919, and it took the second prize. Ever since, the cocktail has been served at Tujague's and other fine establishments across New Orleans and the country.
Hand Grenade
What's in it: Gin, vodka, rum, melon liquor.
Where to try it: Any of the five French Quarter outposts of the "New Orleans' Most Powerful Drink" inventor, the Tropical Isle.
The Hand Grenade is truly a Bourbon Street original, and it's sold frozen or on the rocks exclusively through the Tropical Isle. You'll see the memorable neon-colored, hand grenade-shaped containers clutched by many a passerby in the Quarter. You might also spot the drink's own mascot, dressed in an inflatable grenade costume, bouncing along Bourbon Street.
The drink first debuted at New Orleans World Fair in 1984. You can take home the Tropical Isle's Hand Grenade mix, which is a melon-flavored blend of liqueurs and "secret ingredients."
Hurricane
What's in it: Rum (both dark and light), lemon juice, passion fruit syrup, or juice. Might include simple syrup, grenadine and orange juice, and (in fancier establishments) such garnishes as pineapple leaves and slices, maraschino cherries, or slices of orange. Served in a tall, signature "hurricane" glass.
Where to try it: The bar that gets the credit for inventing this fruity, bright-red concoction, Pat O'Brien's.
Pat O'Brien ran a speakeasy in the 600 block of St. Peter street in the French Quarter until the repeal of Prohibition. Then he opened a bar in 1933 at the 718 St. Peter street location. During the war, domestic liquor was scarce but rum was freely flowing from the Caribbean islands via the Mississippi River. The long story of finding the right mix of juices and rum short, passion fruit has won as a mixer of choice, and the new (and very potent) drink was served in a glass shaped like a hurricane lamp. These days you can take home of a bottle of Pat O'Brien's signature hurricane mix and a souvenir hurricane glass.
Milk Punch
What's in it: Brandy or bourbon, milk, sugar, vanilla extract, with nutmeg sprinkled on top. Served cold.
Where to try it: Brennan's or Galatoire's, but you can find it all over the city, and several places have their own take on this eye-opener.
Milk Punch is a Sunday brunch and winter holidays staple in New Orleans. It's enjoyed a revival since 1901, when it appeared in The Original Picayune Creole Cook Book's first edition. It might remind you of eggnog, minus the eggs. And don't be fooled by its creamy and sweet nature — this boozy milkshake packs a punch.
Pimm's Cup
What's in it: Pimm's #1, lemonade, topped up with 7up and garnished with cucumber.
Where to try it: Napoleon House.
Pimm's Cup was introduced to New Orleans at the famous Napoleon House in the 1940s. When Emperor Napoleon was captured by the British in 1815 and exiled to the Island of St. Helena, the Mayor of New Orleans famously offered Napoleon sanctuary. This was not to be, but Napoleon House persisted, first being in the Impasto family for 101 years and then being purchased by the Brennan family in 2015. Pimm's Cup, at only 50 proof, was introduced to New Orleans in the 1940s, with a slightly different recipe than its U.K. counterpart. This gin-based, refreshing aperitif has become a summertime favorite in the American South for obvious reasons.
Ramos Gin Fizz
What's in it: Gin, heavy cream or milk, lemon juice, lime juice, simple syrup, powdered sugar, orange flower water, egg white, and club soda (to top).
Where to try it: The birthplace of the cocktail, the Carousel Bar & Lounge.
This frothy floral cocktail was named after the bartender Henry Ramos who is said to have invented it in 1888. It was also reportedly the favored drink of Huey Long, Louisiana's most infamous governor. The Ramos Gin Fizz gets its fizzy part from the combination of orange flower water and egg white, requiring prolonged and vigorous shaking to reach the right texture. Legend also has it that during Carnival 1915, Ramos's bar employed over 30 bartenders to mix this famous drink, to meet the demand.
Sazerac
What's in it: Rye whiskey or cognac, bitters, sugar, lemon peel, and an absinthe substitute (such as Pernod or Herbsaint).
Where to try it: The Bombay Club, The Sazerac Bar, but, really, many restaurants serve this elegant cocktail.
The origins of Sazerac are somewhat unclear, but New Orleans claims it has invented this very first cocktail ever. Reportedly it was developed in 1838 by New Orleans apothecary Antoine Amedie Peychaud using his special bitters and the Sazerac de Forge et Fils brand of cognac brandy (hence the name). By 1850 Sazerac was the country's first branded cocktail, and its popularity hasn't dimmed since.
Vieux Carré
What's in it: Rye whiskey, cognac, sweet vermouth, Bénédictine, Angostura bitters, Peychaud's bitters.
Where to try it: The Carousel Bar & Lounge, though you can find it at pretty much any craft cocktail bar in New Orleans.
Hotel Monteleone bartender Walter Bergeron invented this cocktail in 1938, named after the French Quarter. Bergeron was actually the head bartender of the hotel's cocktail lounge that predated the current Carousel Bar, which opened in 1949. Basically, this is the New Orleans' take on Manhattan.
Voodoo Daiquiri
What's in it: Bourbon, Everclear (190 proof, grain alcohol) or vodka, grape juice; served frozen.
Where to try it: Lafitte's Blacksmith Shop.
The Voodoo Daiquiri is often also called "Purple Drank." This sweet, grape-flavored frozen daiquiri is the signature cocktail at Lafitte's Blacksmith Shop, which has been operating since 1722, making it not only one of the oldest structures in New Orleans but also one of the oldest buildings that serve as a bar in the nation. It is said to have hosted the infamous privateer Jean Lafitte and his posse. Beware: The drink is super potent. Just look at the ingredients!
Happy imbibing!
If you are visiting New Orleans, book your stay at a beautiful New Orleans hotel close to the sounds of the city, the French Market Inn! This historic hotel is located in the heart of the New Orleans French Quarter, close to a multitude of popular New Orleans bars and restaurants.
This quaint hotel also gives you old New Orleans charm, without sacrificing any of the modern-day amenities that you want when staying at a hotel. When you stay at the French Market Inn, you can walk through meandering gardens and a beautiful stone-paved courtyard that allows you to enjoy a little oasis away from the hustle and bustle of the city.