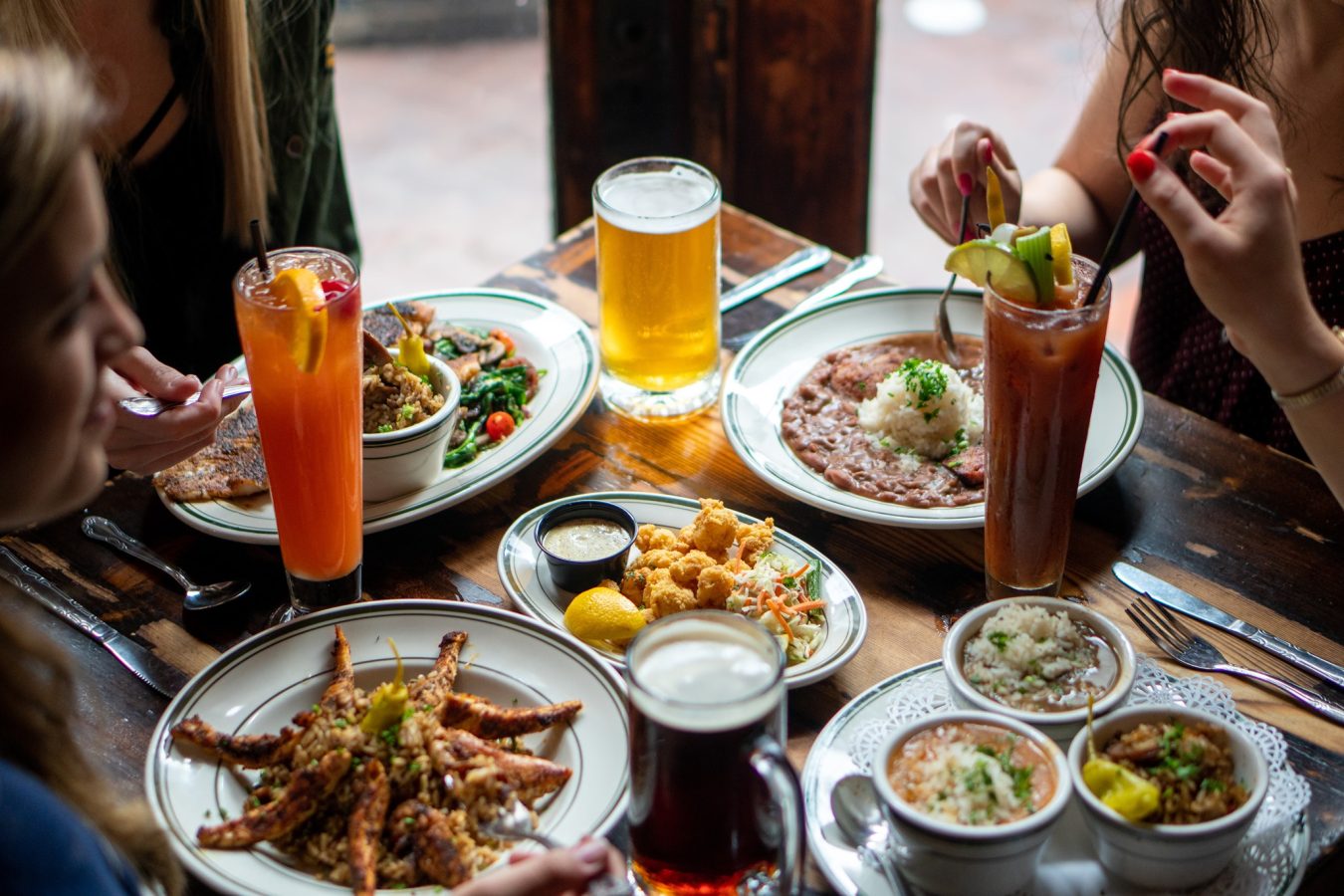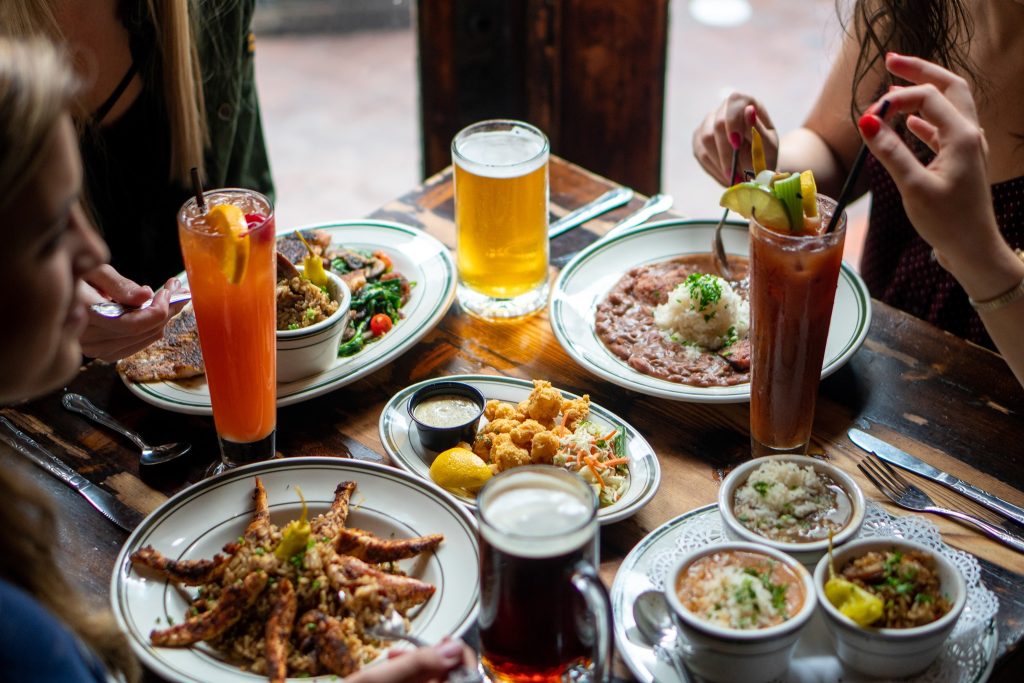 Brunch is usually meant to be a lingering, boozy affair, but New Orleans takes it to a new level with a slew of jazz brunches, classic cocktails, and decadent Creole fare. Many local restaurants offer special weekend brunch menus, often accompanied by live music, and seat as late as 3 p.m. Bottomless mimosas and build-your-own-Bloody-Mary bars are a thing, and your eggs and waffles will arrive at the table covered with decadent sauces, Gulf seafood, and other deliciousness.
From the iconic Creole grand dames to contemporary wonders helmed by award-winning chefs, you can easily find tasty renditions of New Orleans and southern staples on many local brunch menus. Here are our suggestions for the French Quarter and nearby.
1. Biscuits and Gravy
We don't need to explain this Southern classic, which you can spot on many menus of the French Quarter restaurants, from downhome diners to the white-tablecloth veterans alike.
Where to try it: A locally owned mini-chain with one location in the French Quarter, Ruby Slipper's buttermilk biscuits and gravy also come with eggs, bacon, and fried green tomato. You can also add chicken to your order. This Southern staple is also on the menu of the CBD-based Willa Jean (near the French Quarter, and a must if you're a biscuit enthusiast). Willa Jean also doubles as a bakery, and the biscuit is served four different ways (look for "The Biscuit Situation" section in the menu).
2. Breakfast Po-Boy
The egg-and-cheese version of this local staple, a breakfast po-boy also comes with smoked sausage, ham, and veggies. It's served on French bread, of course.
Where to try it: The version served at Stanley is eggs Benedict and bacon, and it's served all day. To-go or delivery-only Verti Marte has whopping nine choices of the eggs-cheese-bacon-ham-sausage combos, all served on French bread.
3. Chicken and Waffles
Before avocado toast and bottomless mimosas began showing up on the brunch menus everywhere, there were chicken and waffles. Simple, satisfying, and as Southern as they come, this dish can be found all over the French Quarter.
Where to try it: The standouts include The Original Pierre Maspero's (Maspero's version features a honey Tabasco glaze) and the fluffy buttermilk waffles at Creole House.
4. Crabmeat Cheesecake
Don't let the name confuse you — this is not a dessert but rather a savory dish — a blend of fresh crabmeat, pecan crust, mushroom sauté, and Creole meuniere.
Where to try it: At the Palace Cafe, which is part of the Brennan's group of restaurants and has one of the few sidewalk dining options in the Quarter. Crabmeat Cheesecake is Palace Cafe's signature dish, and you can find it on the restaurant's brunch menu along with other New Orleans lunch and brunch mainstays like shrimp remoulade.
5. Eggs Sardou
Eggs Sardou isn't as ubiquitous as, say, eggs Benedict, but this Creole dish is nevertheless a New Orleans brunch staple. Like eggs Benedict, eggs Sardou are poached, and served over steamed artichoke bottoms and topped with hollandaise sauce.
Where to try: At Antoine's popular jazz brunch, along with its famous oysters Rockefeller and shrimp remoulade. Feeling adventurous? Try eggs Rossini, also on the menu: the poached egg comes with foie gras mousse crostini, a small beef filet, and Madeira hollandaise.
6. French Toast/Pain Perdu
Pain Perdu means "lost bread," referring to the dish's ability to resurrect stale and otherwise lost to most purposes bread. For this version of French toast French bread is soaked in eggs and milk and then fried (sometimes deep-fried) or grilled, which results in a crisp and buttery exterior and a soft and custardy inside.
Where to try it: Chef Scott Boswell created a very popular Bananas Foster French toast for Stanley's breakfast and brunch menus (again, served all day). The battered French bread is topped with sliced bananas, toasted walnuts and Foster sauce, and served with vanilla ice cream. This is of course a nod to the classic Bananas Foster dessert, which originated at New Orleans' own Brennan's Restaurant and is still its most-ordered item.
The Ruby Slipper hits all the right notes when it comes to brunch mainstays but with distinctly Louisiana twists. This brunch queen has a version of Bananas Foster pain perdu that fits right in with eggs cochon and the acclaimed house specialty, BBQ shrimp and grits. It's made with French bread, of course, and is served with rum-flambéed bananas and applewood-smoked bacon.
7. Gumbo
One of Louisiana's most famous dishes, excellent gumbo is easy to find in the French Quarter — it just depends on whether you like your gumbo with darker or lighter roux, and with meat or seafood (or laden with both). Most restaurants include at least two versions on the menu, the meat and the seafood, and tend not to stray too far from the classic Cajun and Creole recipes.
Where to try it: The Gumbo Shop serves seafood and okra gumbo that is thick with shrimp and crabmeat; a smoky chicken and andouille sausage gumbo; and even gumbo z'herbes, a rarely-seen vegetarian gumbo made with greens. Cup-sized portions are available for easy sampling. Gumbo Ya-Ya, a house specialty at Mr. B's Bistro, is a Cajun country-style gumbo made with a dark roux, lots of Creole spices, chicken, and Andouille sausage. (Pair it with Mr. B's legendary BBQ shrimp, which comes with French bread for dipping, and a bib).
8. Jambalaya
This flavorful one-pot, rice-based dish is right up there with gumbo when it comes to well-deserved international fame, and can be found in many French Quarter restaurants. This staple traditionally incorporates stock, meat, seafood, long-grain rice, and vegetables (like the "holy trinity" also used in gumbo — bell pepper, onion and celery). The main distinction is that the Creole version has tomatoes and the Cajun recipe does not.
Where to try it: One of the best versions you can find in the French Quarter is served at a local watering hole on a busy block of Decatur St., Coop's Place. Coop's Cajun-style rabbit and sausage jambalaya can be upgraded to "supreme" by adding shrimp and tasso, a spicy Cajun ham smoked on premises. No reservations are accepted at this casual joint, and no one under 18 is allowed inside because of the video poker machines.
To sample jambalaya in a more upscale setting, try the version cooked up at Napoleon House, which is laden with seafood in a dark roux. Consider pairing it with the restaurant's famous muffuletta and washing it down with its signature drink, Pimm's Cup. And the New Orleans Creole Cookery has a vegetarian version, not something many restaurants offer.
9. Shrimp and Grits
This iconic Louisiana dish is served on many lunch and brunch menus in the French Quarter, with local chefs often adding their own twist.
Where to try it: Mr.B's Bistro wraps its shrimp in bacon, and Tujaque's offers the classic version with New Orleans-style BBQ sauce and stone-ground grits.
10. Turtle Soup
This Louisiana classic is considered a delicacy in many cultures across the globe. The silky Creole version, served with a touch of sherry (and sometimes with grated or chopped egg, and more sherry tableside), can be found in many classic New Orleans restaurants that serve Creole dishes, including, famously, Commander's Palace and Brennan's.
Where to try it: You can enjoy the old-world Creole decadence, along with its legendary turtle soup, at Arnaud's Sunday jazz brunch, which features Dixieland and a prix fixe menu. The Court of Two Sisters also offers turtle soup on its everyday jazz brunch menu, along with a sumptuous spread that includes Louisiana classics like grits and grillades, a seafood buffet, and a carving station. Want a view of Jackson Square with your turtle soup? Muriel's got you covered with its elegant weekend brunch, accompanied by the sounds of live jazz music and a Ramos gin fizz or a Sazerac.
Are you visiting New Orleans soon? Book your stay at our beautiful French Market Inn! Our historic hotel is located in the heart of the New Orleans French Quarter, close to a multitude of popular New Orleans bars, restaurants and landmarks.